The Continuation and Potential for New Uses of Archiving – Activities of a Research Group on Social Systems Related to Ars Vivendi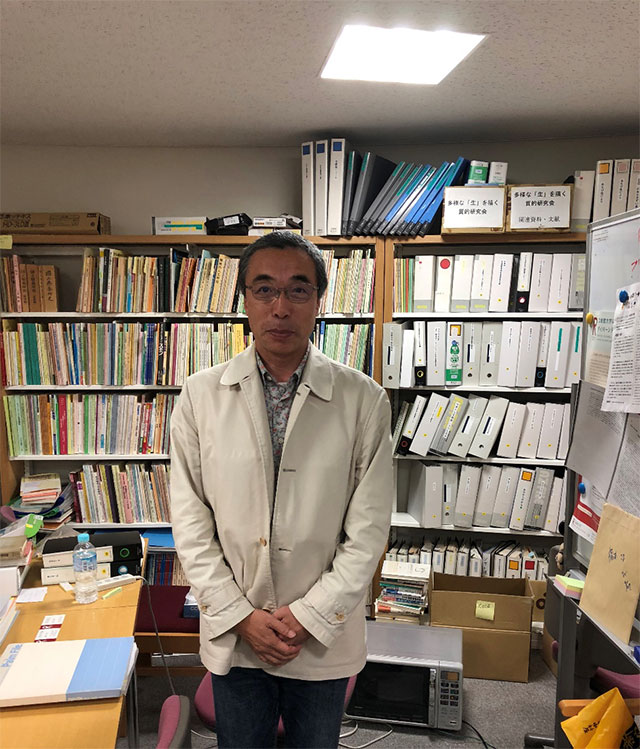 Today the importance of the "participation of the people in question" is seen as self-evident, and the participation of people with disabilities in setting policy related to disabilities is steadily advancing. To engage in effective policy advocacy, it is essential to have access to relevant information. The Basic Essential & Genuine Information Network (BEGIN) was launched in 1993 to collect and provide this kind of information. Before the spread of the Internet and enactment of the Act on Access to Information Held by Administrative Organs (2001), BEGIN collected materials related to disability policy in Japan, such as official documents, committee minutes, and materials related to organizations of people with disabilities. At the time of its merger with the Japan National Assembly of Disabled Peoples' International NPO in 2004, BEGIN had collected 2766 materials.
In 2018 the Research Center for Ars Vivendi (now the Institute of Ars Vivendi) took charge of the materials that had been managed by BEGIN through Onoue Kōji, a visiting researcher of the Institute of Ars Vivendi and representative of Chūbu NPO. One of the aims with which we created the "Research Group on Social Systems Related to Ars Vivendi" was to organize and make use of these materials. The first thing we did to learn more about BEGIN was interview Kamada Masakazu, who had been a fulltime member of its staff. From what he told us we understood that there had been ceaseless efforts to collect, manage, and provide materials. To facilitate greater use in social activism and research, we changed the deteriorating envelopes and cardboard boxes in which the materials had been stored and made a digitized list of these materials available on the Internet. We published a detailed account of these research activities as a booklet (Itō et al., 2021). These activities were subsidized by a 2018-2020 Institute of Ars Vivendi research project. The organization and preservation of materials on this scale would be nearly impossible for an individual, and we think this initiative demonstrates the importance of universities and research institutes.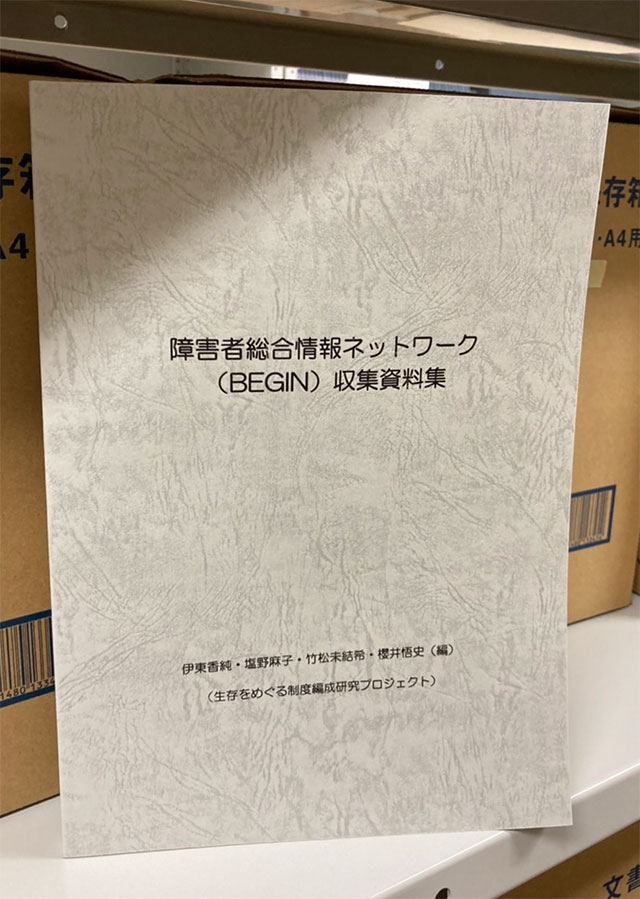 Policy is constantly changing, and to social activists who need to understand and give their opinions on the latest developments the BEGIN materials may no longer be as important as they were at the time they were collected. For researchers examining policy and the social activism of people with disabilities, however, the information these materials provide may be even more valuable today. Regarding how the BEGIN materials can be used in research, I will focus on Hyogo Prefecture, an area concerning which there is a relatively large number of materials. BEGIN's collection of materials was undertaken not only at the office in Tokyo but also by members in various regions. As a result, materials related to local policies and activism were also collected, albeit not to a uniform extent. In 1992, the first "Welfare City Building" ordinances in Japan were passed in Hyogo and Osaka Prefectures. The Hyogo ordinance saw its second revision in 1996 following the Kobe Earthquake. Looking at the "Memo on Revisions" (Document No. 867: Note 1) from the December, 1995 "Hyogo Liaison Group to Consider Disability Issues," a network of organizations with an interest in disability issues in Hyogo Prefecture, we see that the background explanation "in addressing an excessively aging society" was criticized on the grounds that the ordinance was intended to realize city-building for the sake of co-existence, and it was asserted that "elderly people and so on" be revised to "elderly people/people with a disability and so on." As an issue brought to light by the earthquake, the liaison group also sparked demands for improvements to the environment at schools that are used as shelters in the case of a natural disaster. In addition, while acknowledging their own lack of understanding regarding housing issues following the disaster, the group also pointed out the importance of housing planning and distribution that allows for various people, including people with disabilities, the elderly, and children, to intermingle (Document No. 771). Looking at the actual revisions that were made, we see that the background explanation criticized at the liaison group was left unaltered, while major changes were made to the scope of the ordinance to include not only designated institutions such as hospitals and restaurants but also homes. These reforms were described as "housing improvements corresponding to a long-life society" for the sake of "people whose mental and physical capabilities have declined because of aging and people who have a disability caused by an accident and so on living at home" (Document No. 1021). From these materials it can be inferred that the target of consideration of the policy was narrower than that of the liaison group. Moreover, improvement of the schools did not go forward since the primary target of concern was elderly people, and this presumably led to problems arising when schools became living spaces because of the disaster. In this way the BEGIN materials can provide hints to deciphering the points at issue in the assertions of social activists.
1.Document numbers are assigned by BEGIN for the management of materials, and the corresponding material can be confirmed on the list.
[Works cited]
Itō Kasumi, Shiono Asako, Takematsu Miyuki, and Sakurai Satoshi eds., Shōgaisha sōgō jyōhō nettowaaku (BEGIN) shūshū shiryōshū [Basic Essential & Genuine Information Network (BEGIN) Materials Collection] (Project for the Research Group on Social Systems Related to Ars Vivendi, 2021).
Kasumi Ito(Research Fellowship for Young Scientists from JSPS)
Miyuki Takematsu
(Graduate Student, Graduate School of Core Ethics and Frontier Sciences, Ritsumeikan University)