Reading 1920s Berlin – Dovid Bergelson's "Blindness"
Yiddish was one of the mother tongues of Eastern European Jews (Ashkenazim) who had settled throughout Russia and Eastern Europe before the Holocaust, and it still has many speakers today in Israel and North America. Based on Middle High German blended with Hebrew and Slavic languages but written using the Hebrew alphabet, this language is permeated by the long history of the Jews who settled along the Rhine river in the tenth century and later throughout Eastern Europe.
My main area of research is interwar Polish literature that involves an intricate array of languages including Polish and German in addition to Yiddish. As an extension of this I am now studying the literature of post-Russian revolution Berlin, a gathering point for many immigrants and exiles from Eastern Europe.
After the 1917 Revolution the Russian Empire entered a state of internal strife in which the Red Army, White Army, and various other forces engaged in a chaotic struggle, and not only Russians who had opposed the revolution but countless others facing famine and instability spilled out of the country. As the gateway to Eastern Europe, Berlin was thus flooded with refugees from Russia, and in the 1920s took on the character of a Russian enclave①.
Ilya Ehrenburg, a Soviet writer who became famous as the author of The Thaw (Оттепель, 1954), wrote in his memoirs, "I don't know how many Russians were in Berlin around that time, but I think there were quite a few – you heard Russian everywhere you went," ② and this Russian he heard must have included the voices of "Russians" (Russian Jews) whose mother tongue was Yiddish (as seems to have been the case for Ehrenburg himself).
Yiddish speakers were present because pogroms (massacres of Jews) had repeatedly occurred in Russia since the end of the 19th century – it is said that as many as two hundred thousand Jews were killed during the civil war period in particular – and Berlin was a refuge for Jews who had survived them.
Dovid Bergelson (1884-1952), who had been born in a Ukrainian shtetl and made his debut as a Yiddish writer in Kiev, was one of the many Jews who left Russia during the civil war period and arrived in Berlin.
Among Russian exiles in Berlin in the 1920s, perhaps the most famous was Vladimir Nabokov. While Nabokov described the Russian-speaking exile society in Berlin in works such as Mashenka (Машенька, 1926) or The Gift (Дар, 1938), it was Bergelson who portrayed the Berlin of Yiddish speakers surrounded by Russian and German-speaking communities.
One of the short stories published by Bergelson during his period of exile in Berlin (1921-33) was "Blindness" (בלינדקייט,1926).
This story, which depicts a fleeting romance between a middle-aged woman who had come to Berlin from Russia with her husband and a young German who had lost his sight in the war, takes as its theme the sense of loss people were feeling after the First World War. The place that allowed for this connection between a German youth and a woman of Russian origin was 1920s Berlin.
In terms of language, "Blindness" possesses a complex structure that reflects the Berlin of its era. The story, which begins when the narrator discovers "a brand-new notebook very densely filled with a woman's neat Russian handwriting" that had been left behind by the previous resident when he moves into an apartment in Berlin, adopts the form of multi-lingual translation; the notebook's owner, Sonya, had recorded in Russian conversations she had had with her lover in German, and these are then related in Yiddish by the narrator. Moreover, it is suggested that Sonya may have translated her own words from Yiddish to Russian. In addition to this Russian name, it is recorded in the notebook that she also had a different name by which she had been known in Yiddish.
The shouts of a passing nanny, calling back a runaway child, reached my ears like the unclear, disguised shouts of my long-ago, half-forgotten name in my shtetl:
"Khana!… Khana…"
That's how it was.
I halted at the open window as if fettered. ③
Sonya is reminded of a vanished era when she hears the name she had been called in her hometown (the Jewish name "Khana"), and this is also tied to memories of "adversity" of "the 'two or three years' whose existence I deny." She does not say so directly, but here she is obviously referring to the pogroms of the interwar years.
Mundane words cause a chain reaction in another language and demonstrate the power to make the listener tremble. The closeness of German and Yiddish undoubtedly plays a role in Sonya/Khana being reminded of traumatic memories in Berlin. It was a particular experience that could not happen to Russians like Nabokov, let alone Germans.
The study of multilingual literature has flourished in recent years, but even today minor languages like Yiddish tend to be overlooked in comparison to major languages such as Russian and German. Like changing the frequency on a radio, we need to tune our hearing to speakers of minor languages. This is the case because the act of reading literature is also an act of approaching the experiences of someone else using the five senses; when we read we reexperience the imagined sensations of another person. In the training of this sensitivity, among other things, I think the literature of 1920s Berlin in which Yiddish and Ukrainian live side by side with German and Russian is a subject of study worth tackling.
① Yuichi Isahaya's Roshia jin tachi no berurin [Russians' Berlin] (Tōyō Shoten, 2014) is a very recent work addressing 1920s Berlin form the perspective of Russian literary figures.
② Ilya Ehrenburg, Waga Kaisou: Ningen, saigetsu, seikatsu [My Memoirs: People, Years, Life], vol. 2, translated into Japanese by Hiroshi Kimura, Asahi Shinbunsha, 1968, p. 23.
③ דוד בערגעלסאן, בלינדקייט, געקליבענער ווערק 6, ווילנע, 1929, ז.59-60.
("Blindness," in The Shadows of Berlin, trans. By Joachim Neugroschel, City Lights Books, 2005, p. 87.)
Moriyasu Tanaka
(Advisory fellow, Graduate School of Core Ethics and Frontier Sciences, Ritsumeikan University)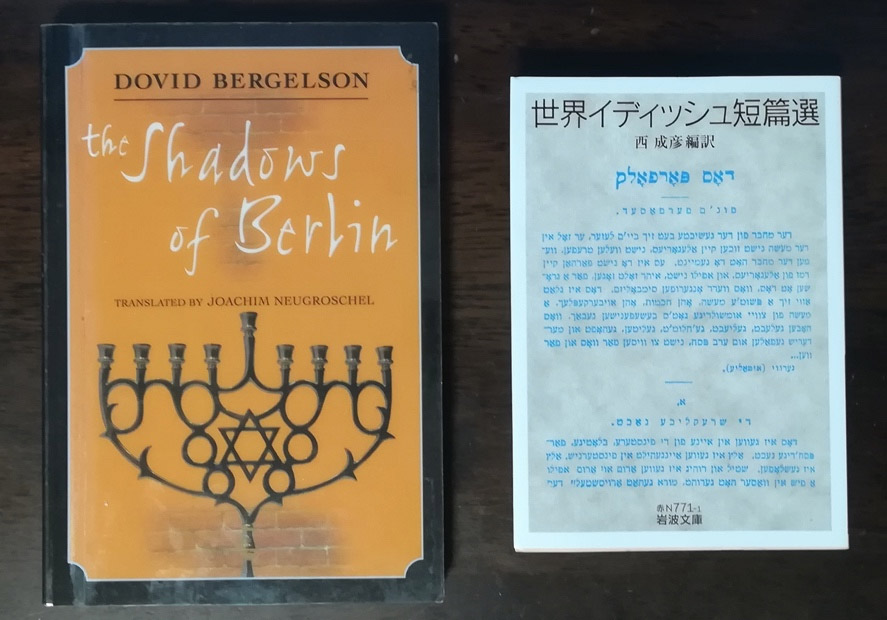 Bergelson's stories have been translated into various languages. English translations of major stories from his Berlin period, for example, were published in 2005 in a collection entitled The Shadows of Berlin (translated by J. Neugraoschel; pictured on the left). The only Bergelson story currently available in Japanese, "Toubousha" [Among Refugees] (1927), is included in Sekai idisshu tanpensen [World Yiddish Short Story Selection] (edited and translated by Masahiko Nishi, Iwanami Bunko, 2018; pictured on the right). It is a thrilling story that depicts the fate of a young Jewish man who plots the murder of a Ukrainian "pogromchik" (mass murderer) who had destroyed the shtetl of his birth after he moves in next door to his Berlin apartment.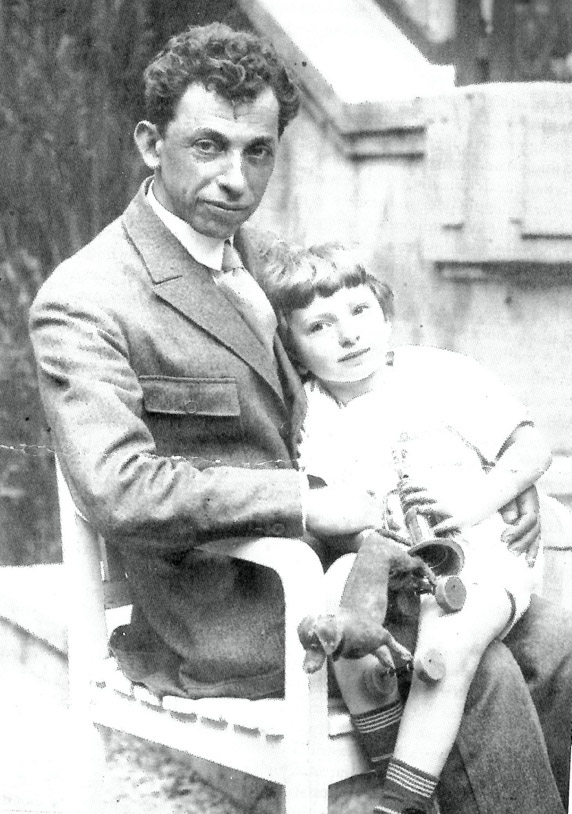 Bergelson and his son Lev (Freiburg, 1922). From Joseph Sherman and Gennady Estraikh (Ed.), David Bergelson: From Modernism to Socialist Realism, MHRA and Routledge. 2007, p. 82.