Practice of Social Movements by LGBT Persons with Disabilities in Taiwan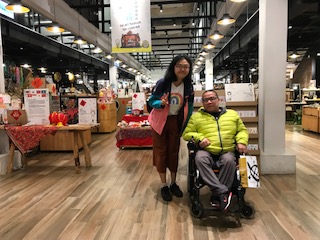 I have been conducting research on people with disabilities who identify as lesbian, gay, bisexual and transgender (LGBT) activities and social movements. I went to Taiwan from February 21 to February 25, 2019 to visit people and organizations that are involved in "同志運動*1" (LGBT social movements).
Social enlightenment events have been held in Taipei since 2003 to respect LGBT culture and seek their legal rights*2. In the 6th Taipei Pride Parade which was held in 2008, certain group caught attention from the media. The name of the group is "残酷児" (Disabled+Queer). The group members participated in the parade, holding flags with their group name on them and using rainbow-color wheelchairs (which consist of red, orange, yellow, green, blue, and purple). The color represents LGBT. This was the first time for LGBT persons with disabilities in Taiwan to disclose their own sexual orientation and gender identity, and participate in the parade.
Since then, Disabled+Queer has developed as a self-help group for ten years. Mr. Vincent, a member of Disabled+Queer who has a physical disability and identifies himself as a gay person, participated in the parade with his friends with disabilities. During my stay in Taiwan I asked him about the objectives of Disabled+Queer. The first objective is to convey a message to LGBT persons with disabilities that they are not alone. The second one is to let its members find out both differences and similarities between heterosexual persons with disabilities and LGBT persons through the Pride Parade, consider coexistence with others through the findings, and rediscover the identity of LGBT persons with disabilities.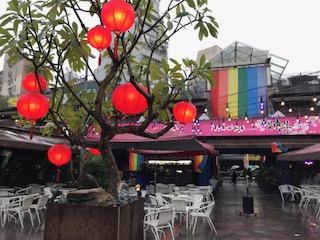 Mr. Vincent also showed me around Ximending District which is the largest source of LGBT culture. There are many shops, bars, and cafes for LGBT friendly around the Red House Theater. As many of them have open-air seats, wheelchair users can use such spaces conveniently. In fact, however, Vincent has had some experiences that he was not allowed to use some of them just because he is disabled. What this indicates is that people with disabilities are excluded from the society of able-bodied persons which is tolerant of gender and sexual diversity.
From his experience, Mr. Vincent realized that he lives in the world where disability and sexual minorities tend to be excluded socially and he felt the necessity to participate in disability movements as well as LGBT social movements. As LGBT social movements challenge the society where heterosexual people obtain a majority, people with disabilities need to seek their rights and their own sexual orientation and gender identity in the society where able-bodied persons obtain a majority. Participating in the Pride Parade is one of the actions which overcomes their own difficulties and seek a possibility of diverse ways of living.
As activities by Disabled+Queer has enabled the barrier-free access to the Pride Parade in Taipei, other organizations have focused on LGBT persons with disabilities. For example, Taiwan Tongzhi Hotline Association, which is the largest LGBT support organization in Taiwan, has provided a sign language support service and round-table talks for LGBT persons with hearing disabilities.
The number of participants of the Pride Parade in Taipei, which is said to be the largest in Asia, exceeded 130,000 in 2018. Disabled+Queer has presented difficulties which have arisen from the combination of disability and LGBT. I hope that discussion regarding the diversity of disability and LGBT will expand from now on. Let's participate in the Pride Parade which will be held in October and walk together.
*1 In 1990s "同志 (Tongzhi) " became established as a word indicating LGBT in Chinese-speaking countries. "同志" has meanings such as equal peers and resolution of stigma. In 1996, social movements by various organizations were developed in diverse forms at Taipei New Park (now is called as The 228 Peace Memorial Park) including LGBT Civil Rights Movements.
*2 In 2003 the Taiwan LGBT Pride Parade was held in Taipei for the first time. In 2019, the 17th parade will be held in October 2019. In recent years, pride parades have also been held in Taichung, Tainan, Kaohsiung, Yilan, and Huadong (Hualien/Taitung) City.
OUYANG Shanshan