International Exchanges in Boston, USA: 28th International Symposium on ALS/MND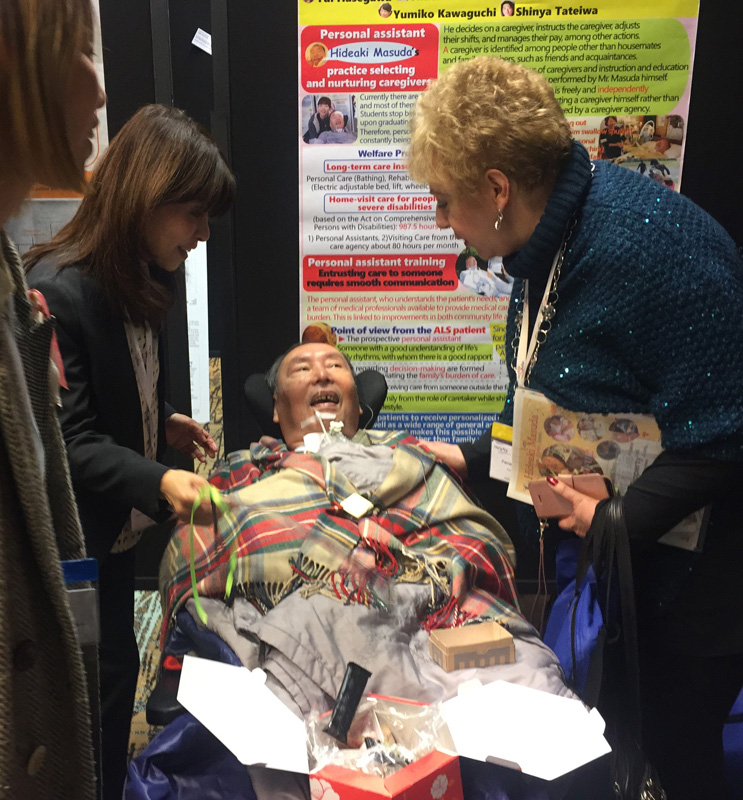 I participated in the 28th International Symposium on ALS (amyotrophic lateral sclerosis) /MND (motor neuron disease) which was held in Boston from December 7 to December 9, 2017. While the symposium had many presentations on the treatment of ALS/MND, I gave a poster presentation about how a person with ALS who is on a ventilator lives his/her life at home in Japan together with some others including Mr. Hideaki Masuda, who is a person with ALS who is on a ventilator. In our presentation, we focused on (1) how to organize a life of the person with ALS through cultivating a caregiver called personal assistant who is other than their family member and who takes care of a particular ALS person only, and (2) the home care support system utilizing the existing medical and welfare system. We exchanged views with approximately 20 persons at the symposium.
During our stay in Boston, our connection with the International Alliance of ALS/MND Associations enabled us to visit a facility where persons with ALS live and to conduct interviews with persons with ALS from other countries who participated in the symposium. As for the facility, many of the residents with ALS receive benefits called Medicaid for persons with physical disabilities whose income are limited. Those who do not receive Medicaid pay 530 USD per day as a usage fee for the facility. The number of residents in the facility was approximately 100 persons and three out of the eighteen persons with ALS were on a ventilator. The facility employs nurses and provides 24-hour assistance for persons who need medical care. A resident with ALS who used an electric wheelchair showed us around the facility by opening/closing a door and operating an elevator through an eye-gaze input interface and turning his text to voice. The floor of the facility we observed had only single rooms and was equipped with an overhead traveling lift from each bed to the bathroom and toilet. We scarcely saw care staff during the tour and we felt that the residents seem to be living with the support of the high-tech welfare equipment.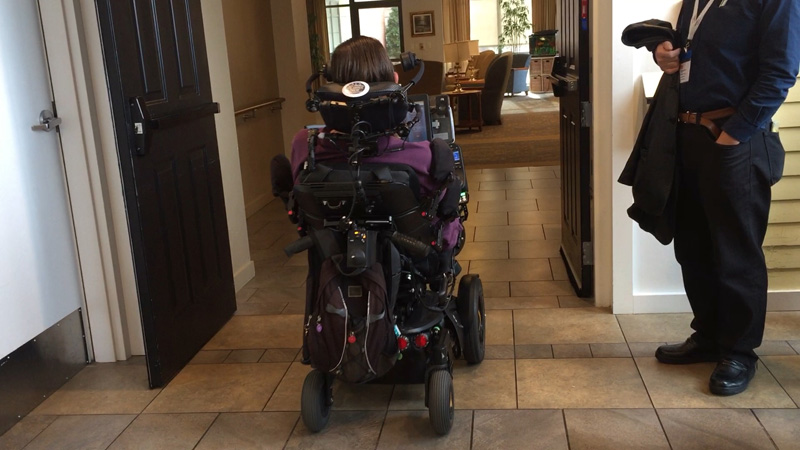 Regarding the interviews, we asked persons with ALS from the U.S, the Netherlands, Taiwan, Iceland, India, and Belgium about their living situations. Through the interviews, we have found that some countries/areas have the welfare system or public service with ALS can take advantage of. For example, the Boston Center for Independent Living (BCIL) provides a home-visit nursing care service. Persons with ALS in the U.S, therefore, can receive 24-hour care service at home by utilizing the welfare system the BCIL provides. However, the reality is that persons with ALS tend to use the medical care system, which makes it difficult for them to utilize the welfare system for persons with disabilities. Moreover, as the public service in many countries/areas presupposes care by the family members, the system itself is not sufficient for persons with ALS.
When we think about the lives of persons with ALS in communities, it is necessary to have caregivers other than their family members. Through the interviews we found that Japan has also similar problems other countries/areas have such as the relationship between medical care and welfare and the systematic problems. However, in Japan movements by persons with disabilities have enabled visiting care for persons with severe disabilities, which provides care guarantee of 24 hours a day, every day. Persons with ALS in Japan live their lives utilizing this system. Moreover, in Japan caregivers are legally allowed to provide medical care such as sucking sputum or nutrient injection through gastric fistula once they obtain qualification. Such system enables persons with ALS who are on a ventilator to live independently in communities.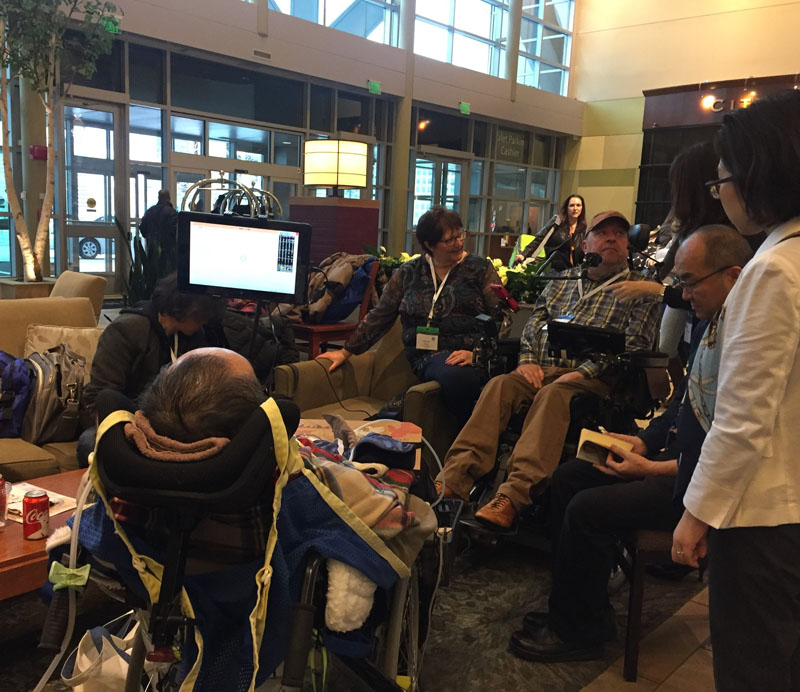 The percentage of persons with ALS who are on a ventilator in other countries is extremely low and Mr. Masuda was the only participant who was on a ventilator. Mr. Masuda's presence in the symposium, therefore, has a powerful impact on participants in the symposium. When I was with him, persons with ALS or researchers in other countries asked us about how he feels about living his life with the support of a ventilator, or they were interested in our operating a computer using a switch which was made by improving a suction tube. Also since some of them mistakenly perceived caregivers who were with Mr. Masuda as his family member, we explained them about personal assistant.
Persons with ALS in Japan have made every efforts to take advantage of the medical and welfare system in order to survive. They have also continued international exchanges with other participants in the international symposiums on ALS/MND to date. Last, year they issued an announcement asking for making the symposium barrier-free with participants from other countries. As a result, an advisory body which comprises persons with ALS will be established within the international symposium this year. Taking over these movements, Mr. Masuda discussed a barrier-free issue he had faced on the airplane*1 with persons with ALS from other countries. He has actively conducted his activities towards the realization of barrier-free environment after returning to Japan.
Of course, it is important to cure ALS itself. However, at the same time, it is also important for persons with ALS to share information concerning themes relating to living measures and quality of life including how they live with ALS, or what kind of life they can choose. As communication technologies and social security vary depending on countries/areas, persons with ALS in other countries have limited options to survive. I realized that conducting international exchanges such as participating in the international conference and seeing and hearing how persons with ALS live in other countries, or sharing the actual experiences of persons with ALS with others are important activities as they can contribute to the future of persons with ALS and their supporters across the boundary.
NISHIDA Miki
Related Links
This research achievement was financially supported by the research fund "international research activities," a support system for enhancing the research quality of young researchers of the Research Center for Ars Vivendi in the academic year 2017.