Fighting against Difficulties with My Ventilator: East Asia Disability Studies Forum 2017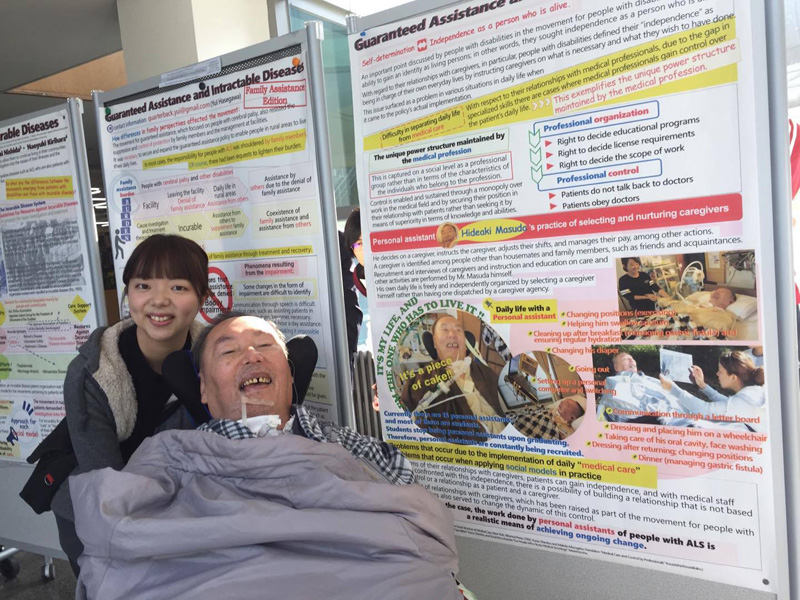 In front of the poster
I participated in East Asia Disability Studies Forum 2017 which was held at Soonchunhyang University in South Korea from October 24 to 26, 2017. In the Forum, researchers from Japan, South Korea, China, and Taiwan mainly discussed the theme of the "postmodern" aspect of disability studies, including how we should understand disabilities and how issues over disabilities emerge.
It is surely important to understand and consider disabilities and diseases in different countries where each has its own language, culture, tradition, and situation.
Actually, I live with an intractable disease called ALS (amyotrophic lateral sclerosis) through the supports of a ventilator and caregivers. It is necessary for me to consider how persons with severe disabilities, including me, live as well as what disabilities are.
I developed ALS when I was 60. ALS is a progressive intractable disease whose cause and cure have not been clarified yet. If you have ALS, you lose control of your own body and even of breathing. Thus, the ventilator is necessary in order for the person with ALS to live. ALS prevents you from controlling your muscle movement and makes you bedridden. It is said that the number of patients who uses the ventilator in Japan is less than 30 percent. What this means is that the remaining 70 percent of patients choose (are forced to choose) to die without the ventilator. Many of the patients hesitate to be on the ventilator. So did I. After being afflicted for a while, I decided to be on the ventilator. At first, however, I spent time just staring at the ceiling without a wheelchair, which made me regret my decision. I gave up various things because of ALS. At the time I thought I was not able to go overseas anymore.
However, after meeting with Ms. Hiroko Koizumi from the Japan Center for Independent Living (JCIL) and learning about "independent living" through movements by people with disabilities, I noticed that I have an unlimited potential in spite of the disease—it is up to me and the environment which surrounds me. Since then, I have carved my own path by challenging various things many people consider difficult. Participating in the Forum this time is one of my challenges because it was the first time for me to participate in a forum, go overseas, and ride an airplane since I have had the ventilator.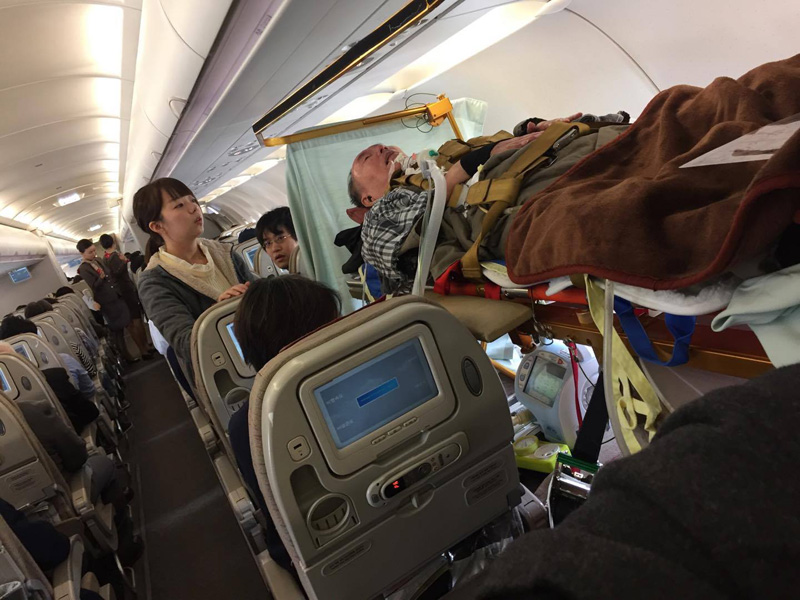 The stretcher seat which uses six economy-class seats
I had significant hurdles to overcome. First of all, I was stunned by the fact that the number of the seats I can use is limited. I cannot keep a sitting position and need to make my body lay down in order to prevent my lung from bursting. Therefore, it is necessary to secure either a business class seat which has a fully flattening function or seats for installing a stretcher, and it is expensive. In my case, six economy-class seats were required to install the stretcher and I was required to pay for the six seats. Moreover, it was not a discount rate but a regular one. Therefore, my airplane expense cost approximately ten times more than the other participants. Furthermore, the seat for the stretcher was positioned on the back part of the airplane and there was no transportation device between the entrance and the seat. Therefore, my body was placed on plastic sheets which were spread on the ground and three persons dragged my body until they reached the seat. Since the space inside the airplane was narrow, every part of my body was covered in bruises after the transportation. This shows that the society does not allow persons with severe disabilities, including me, to ride on an airplane as a natural thing. Such unreasonable things exist in various parts of our daily life. This is why it is necessary to have presentations and discussions concerning the care system of each country and the things which are related to the daily scenes of the persons with severe disabilities.
The persons with severe disabilities who are on the ventilator such as me always live side-by-side with euthanasia and death with dignity and we are placed in the environment where the values of our existence and life are influenced by the way of society. I participated in the Forum in order to convey our realities. Thanks to the persons who need my participation I was able to participate in the Forum and I realized that "I live." This kind of forum provides us an opportunity to create a path we can live together. I would like to keep creating a path for living through my own reality and fighting with difficulties from now on, too.