Conducting Field-work Research in Villages of the Embera People in Eastern Panama
My research field is the inhabited area of the Embera people which is located at Darien district in Eastern Panama. In Darien district there still remain a lot of forests. However, during the past several decades people who live on stock raising (they are called as Colonos) came to the province from other domestic provinces. This raises problems with land use between Colonos and the Embera people.
In 1983, the act concerning collective land right was legitimated to the Embera people. The act identified major part of inhabited area of the Embera people as comarca. Since then Congreso General Embera=Wounaan(hereafter CGEW), which consists of the Embera people, has been involved not only in land problems with Colonos, but in administrative management of their comarca.
In addition to response to land problems, which are local social problems, CGEW undertakes various roles. One of them is to address various projects conducted in the comarca. For example, CGEW examines projects such as the construction project of fixed-wire networks that connects across the border of Colombia, and projects concerning forest use due to climate change, and makes judgments on the pros and cons of the projects. Several years ago, CGEW moved its office to Panama City which is located far from Darien. The purpose of it was to manage the comarca more smoothly since its management requires much communication with foreign groups/institutions/individuals.
As this transfer of the office shows, what form the current Embera life is not only daily practices in their homeland. The initiatives and intentions of outside people who contact and collaborate with CGEW also becomes an element which forms their present and future.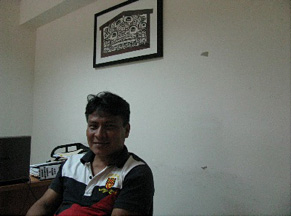 Picture 1
Picture 1 was taken at the office of CGEW in Panama City. You can see a picture on the wall behind the man. The distinctive way of drawing was developed under indigenous people of Pacific coast in North America, which is located far from Panama. This picture was a gift CGEW received when they visited indigenous people of Pacific coast in North America. The purpose of the visit was to view companies' activities conducted by the indigenous people's community in North America and learn how to manage companies that had been established recently. It was a management consulting company of forest resources which co-worked with an Embera company that tied these two indigenous communities. The man on the picture let me know that the company also co-worked with indigenous people in North America. Although these two indigenous communities had no relationship at first, the company's activities made the one positioned as the preceding case of the other.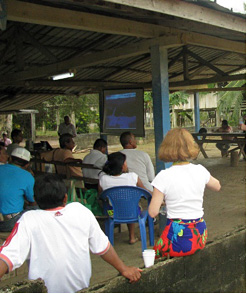 Picture 2
Picture 2 was taken at a seminar on the framework of fixed carbon deals in forests on a global basis due to climate change. This seminar was organized by other indigenous people in Panama and foreign academic institutions in addition to CGEW. Some foreign NGOs participated in the seminar. In the seminar non-indigenous people provided information about the framework for indigenous people. There were some presentations about cases in other countries such as Brazil with pictures. Here, groups living far away from Panama were presented as preceding case of people who saw it in Darien, too.
Groups which have originally no relationship are presented as the preceding case or possible future in the two activities CGEW has worked through. Outside people who visit CGEW objectify that Embera and other groups can be dealt with in the same way. Such a project has a framework that they try to acknowledge the groups as similar ones regardless of differences of lifestyles, cultures, and histories.
Toward this kind of trend of forming indigenous people's future through projects I would like to keep conducting research based on the ethnographic viewpoint. Ethnography is the study which conducts analyses and descriptions based on the premise that people we meet in a research site are not substitutable. By practicing "ethnography of ars vivendi", which is based on the ethnographic viewpoint and describes the way of human lives which cannot be described based on the recognition that various groups are regarded as similar things, I would like to seek a viewpoint of criticizing the trend of trying to form the indigenous people's future.