An International Workshop on Bioethics in Historiographical Perspective
published: 2014-06-17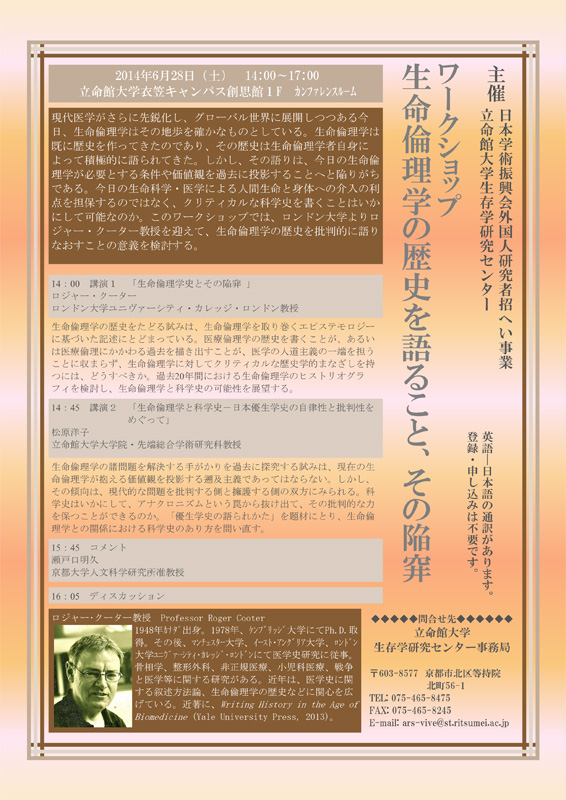 Date & Time: June 28, 2014 14:00-17:00
Place: Conference Room, Soshikan Hall, Kinugasa Campus, Ritsumeikan University (PDF)
Host: JSPS Invitation Fellowship Programs for Research in Japan / Research Center for Ars Vivendi, Ritsumeikan University
Participation: Free of Charge / No Advance Application Necessary
*Interpretation from English to Japanese will be provided.
Event Overview
Bioethics, no doubt, has become an academic discipline in the early twenty-first century. It has responded to the politico-economic and social urgency for securing the wellbeing of scientific subjects as well as defending the scientific progress. Not surprisingly, bioethicists wished to narrate their own history at the zenith. So did they, indeed. However, their history-writing reflects the politico-economic interests and essentialist views of human beings, thereby lacking the critical power that the older generation of bioethicists and historians of science and medicine could have in the middle of the twentieth century. This workshop will provide a site for academic discussion over how we, historians of science and medicine, can contribute to the critical history-writing of today's biomedicine.
Program
14:00
Lecture "Historicizing the history of bioethics"
Prof. Roger Cooter (University of College London)

Trials to trace the history of bioethics remain description based on epistemology surrounding bioethics. What should we do so that writing the history of healthcare ethics or drawing the past concerning medical ethics can not only play a part in humanitarianism of medicine but have the critical history-writing of today's biomedicine? Prof. Cooter has a view of a possibility of bioethics and the history of science by examining historiography of bioethics in the past twenty years.

14:45
Lecture "Bioethics and the history of eugenics: revitalizing its critical ability and autonomy"
Prof. Yoko Matsubara(Graduate School of Core Ethics and Frontier Sciences, Ritsumeikan University)

Trials to seek a clue in the past to solve various problems of bioethics should not be retroactivism in which values of today's bioethics are projected. However, such trend can be seen both in the side that criticizes the modern issues and the one that advocates them. How can the history of science escape from the trap of anachronism and keep its critical power? Prof. Matsubara re-questions the way of the history of science in the relationship with bioethics by focusing on "the way of narratives in the history of eugenics".

15:45
Comment Prof. Akihisa Setoguchi(Kyoto University)
16:05
Discussion
Prof. Roger Cooter
Prof. Roger Cooter was born in Canada in 1948. He earned Ph.D. at Cambridge University in 1978. Then he has conducted research on the history of medicine at University of Manchester, University of East Anglia, and University of College London. His research includes the history of phrenology, orthopedics, alternative medicine, pediatrics, and wars and medicine. Moreover, He recently concerns the historiography of medicine and bioethics. His recent publication is Writing History in the Age of Biomedicine (Yale University Press, 2013).
Inquiries
Administrative Office, Research Center for Ars Vivendi, Ritsumeikan University
56-1 Tojiinkita-machi, Kita-ku, Kyoto 603-8577
E-mail: ars-vive@st.ritsumei.ac.jp
TEL: +81-75-465-8475
FAX: +81-75-465-8245
* There is no parking available at the venue, so please use public transportation.