Reexamining the History of Long-term Care Benefits: Search for Local Histories
In Japan long-term care insurance service has increased its scale rapidly for the past 15 years since the enforcement of the Long-Term Care Insurance Act in 2000, and now becomes a ten trillion industry. The number of providers of the service reaches 1.3 million persons and when we walk the streets, we see home helper and pickup vehicles of day care facilities. Thus, it becomes natural for us to use the long-term care service.
However, there is a historical background behind such a system over long-term care and its practice. In the mid-1950s in Japan, people were left with the scars of the war. The aged were left behind by economic recovery due to their low earned revenue ability. In addition, because many of their children became the victims of the war, they were not able to receive economic support from the children. As a result, many of them were not able to escape from poverty. There was a system of public assistance that supported their living at that time. However, since the standard of receiving public assistance was strict, not all people were able to use the system easily. Also, there were not enough nursing homes for the aged to accept all of them. For these reasons, there existed many old people who did not have anyone to rely on and consequently they had difficulty living, which became a social problem. In order to improve this situation, each local government decided on their own accord without waiting for development of legal systems– visited the aged and started their life support. This is said to be the beginning of public home help service in Japan.
Historical research concerning public home help service has so far divided the times mainly through transition of the legal system. However, actually, public home help service has been implemented by municipal governments and different practices have been implemented by each region depending on the situations. Therefore, in order to conduct research over the history of long-term care, it is necessary not only to follow the transition of the legal system but to explore individual practices in each region historically and accumulate them as data.
I have conducted research on public home help service in various regions including Kyoto City, Sapporo City and Akita City and revealed each history of public home help service in each region. Especially, I demonstrated, from the original source, the background, business summary and trend of the public home help service Kyoto City had conducted since November 1955. This research achievement raised a question about previous research because it overturned the prevailing orthodoxy that public home help service Ueda City, Nagano Prefecture, had conducted since 1956 was the beginning of the system in Japan, which enabled us to reexamine the scheme of public home help service fundamentally.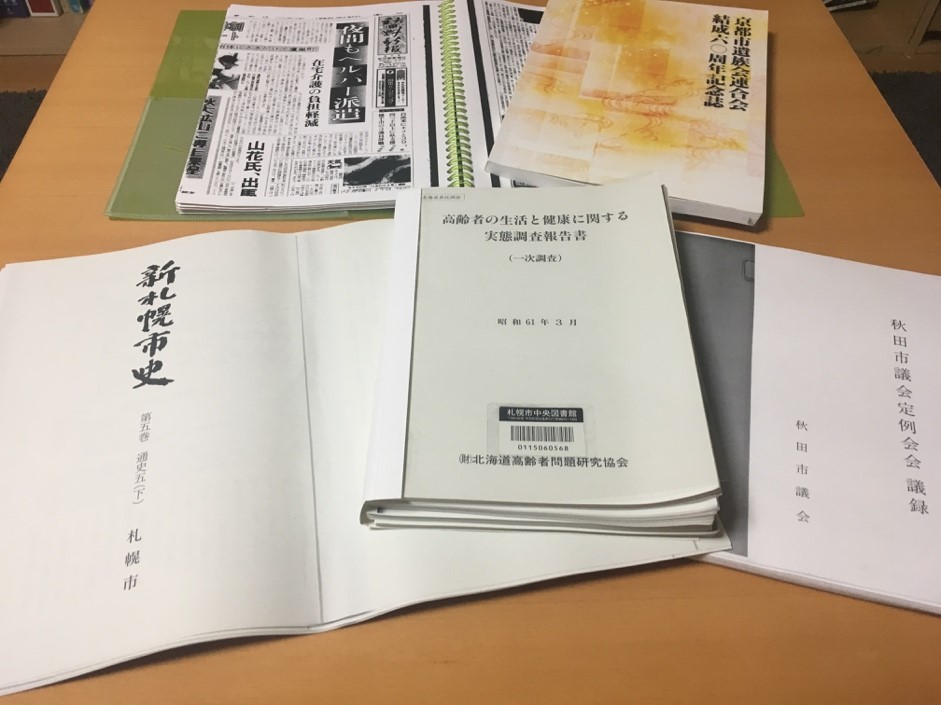 enlearge image (to back to press x)
It is not easy to collect materials concerning public home help service of municipal governments because of the limited storage period of the materials–consequently, many the materials are disposed. Therefore, it becomes necessary to collect a wide variety of materials, including the history of municipal governments, the minutes of local assemblies, magazines of public administration, local newspapers, materials of related groups, and even private papers of persons in charge of public home help service in those days. The limited accounts left in these enable us to etch the shapes of its history. However, at this stage, it is difficult to say that we can fully understand public home help service. It is necessary to have a dialogue with the enormous materials which are collected widely. That is a kind of the work as if past events described in the materials ran in front of us as images, and reminded us of the visual scenes in those days. It is as if we watched a movie, or it lulled us into the illusion that we traveled back to the time. These two stages enable us to get out of the "chronological" understanding in which we just trace past events chronologically and thus to have a systematic understanding of its social background and the history of the town.
It might be impossible to trace all "local histories" of public home help service in detail because each municipal government has its own history. However, we cannot have an enough understanding of a better social welfare without focusing on practices of nursing care fields. In that sense, it is very important to focus on the "local histories."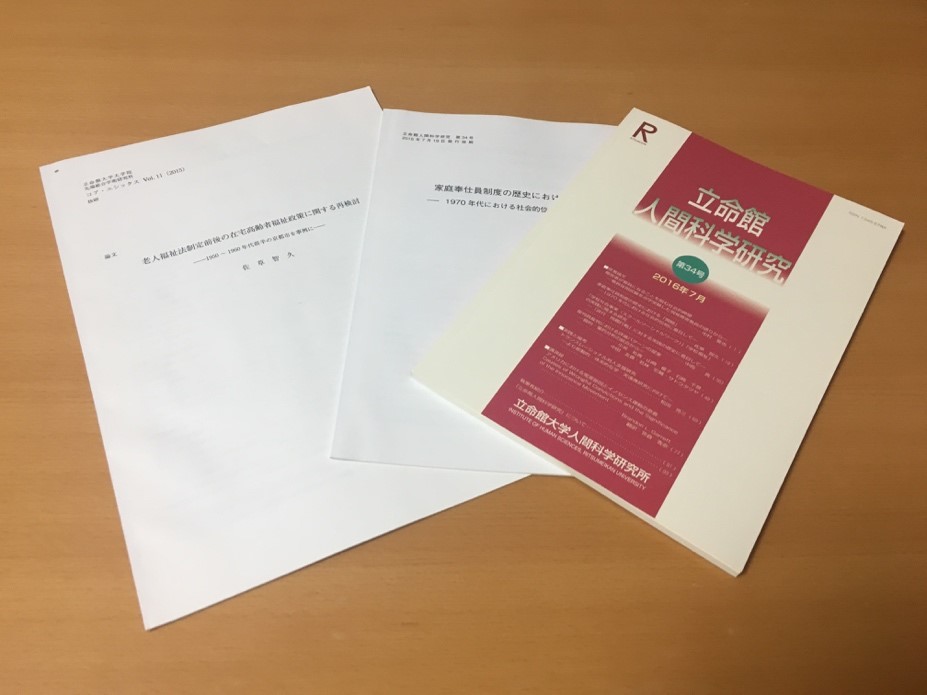 Academic papers which were published
SASO Tomohisa