Relationships and Trends in the Japanese and International Hemophilia Community
The AIDS Problem devastated the Japanese hemophilia community in the 1980s. This community spent a great deal of time and effort suing the national government for compensation, and as a result its affiliation with World Federation of Hemophilia (WFH) lapsed. After the lawsuit was settled, there was finally an environment that would allow for a restoration of ties with WFH, but as a result of the AIDS Problem national association that could have taken on the role of representing Japan as its National Member Organization (NMO) had disappeared.
The generational gap in the hemophilia community has given me a strong sense of the necessity of handing down the history of this community to young hemophiliacs and their families. As I noted last time in "Research Highlights" (see footnote), I have actively supported the hemophilia community while studying the debates that arose surrounding hemophiliacs along the axis of the history of the hemophilia community in post-war Japan. The aim of my book, The History of Hemophiliacs in Japan: Hospitality of Otherness / Participation in Society /Protest Movements, was to aid in the restoration of the hemophilia community.
WFH is non-profit organization that includes network composed of NMOs from 134 countries. It celebrated its 50th anniversary in 2013 and has been recognized by World Health Organization. WFH has put forward the goal of "Treatment for All" and has carried out activities aimed at ensuring that every blood disease patient can receive appropriate care no matter where they live.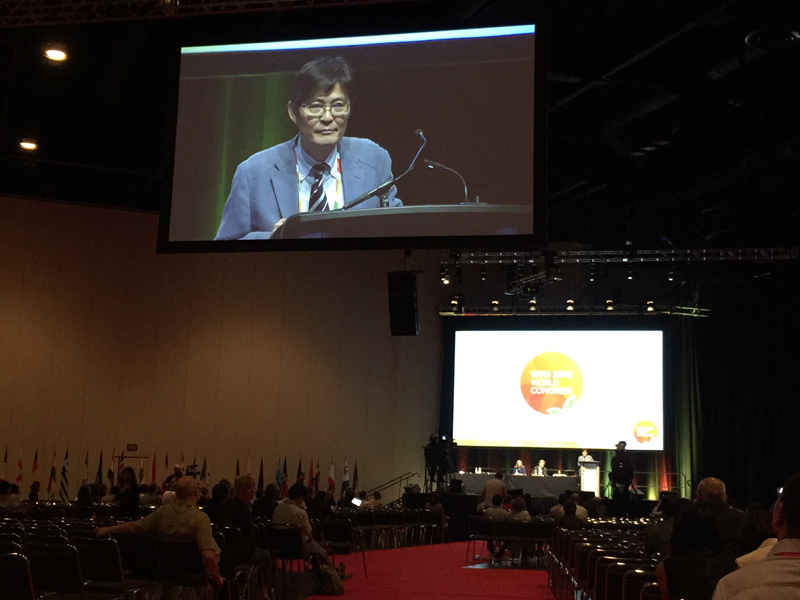 A gathering of a diverse group of people supporting hemophiliacs at WFH. Nara Prefectural University Professor Midori Shima is shown on the monitor.
In 2002, a new national association in Japan, Japan Committee for People with Hemophilia (JCPH), was established by members sensitive to international trends. JCPH's members were aware of the importance of bringing back Japanese NMO, and WFH was also eager to have a NMO representing this country. The pharmaceutical industry is made up almost entirely of multinational companies and requires the cooperation of NMO and WFH. WFH also believed it needed the help of Japan to achieve adequate hemophilia treatment in Asia. JCPH was certified as Japan's NMO at WFH general meeting in 2006. The local patients' associations that have been active independent of JCPH, however, did not have the same awareness of WFH and international trends. In 2008 the National Hemophilia Network of Japan (hereafter "National Network") was formed spanning these local patients' associations. These two national organizations, JCPH and National Network, each made use of their own distinct characteristics; JCPH worked with the WFH while the National Network deals with domestic issues. Since staging the National Hemophilia Forum in collaboration with JCPH in 2010, the National Network has also gradually deepened its relationship with WFH and has begun to be more conscious of the global hemophilia community.
JCPH disbanded in 2014. Some of members also being participated in social activities for the AIDS Problem and the number of members in poor health having increased in recent years had made engaging in activities as an association difficult. When JCPH was dissolved Japan was once again without a NMO. Cognizant of the need for global cooperation, National Network immediately began the process of obtaining NMO certification. On June 29th, 2016, National Network was certified as Japan's NMO at WFH general meeting held in Orlando, U.S.A.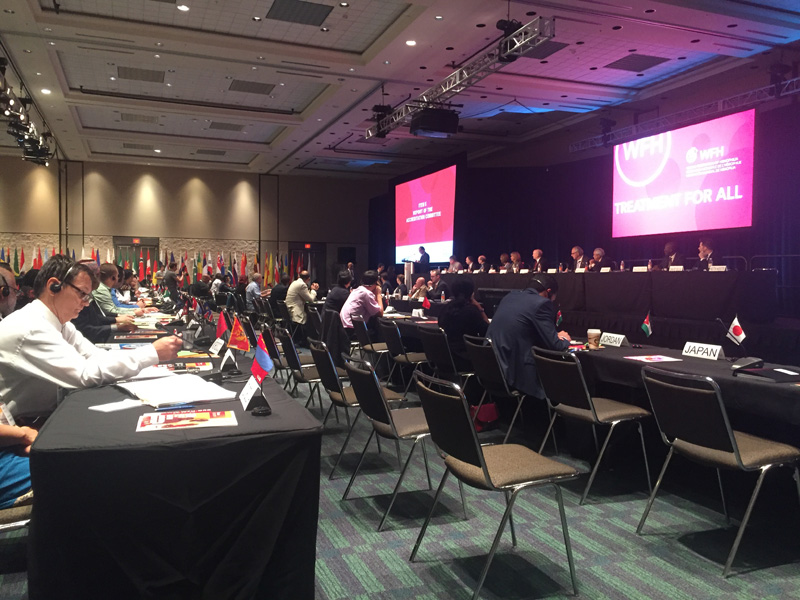 Condition on opening before WFH general meeting. Arranged seat "JAPAN" on the right come backed NMO. After a while, National Network chairperson Ryusuke Sano took a seat.
In recent years the global hemophilia community has viewed appropriate diagnosis and care of the many women on the periphery of hemophilia as one of its major issues to be addressed. Within WFH, education has been conducted on the importance of knowledge about women's bleeding in relation to patients with von Willebrand disease, which differs little between genders, and rare bleeding disorders. At the last WFH meeting many women actively participated in discussions regarding their own bodies and health. Even within Japan, a trend toward discussing women's issues has slowly been taking shape.
Going forward, it is hoped that National Network will cooperate with WFH and actively address issues concerning hemophilia and bleeding disorders. At the same time, as NMO it is also facing the difficult tasks of achieving organizational stability and fostering the next generation.
This convoluted history leading up to National Network's NMO certification illustrates the enormous impact of the AIDS Problem and difficulty of restoring the hemophilia community. The current study of the Japanese hemophilia community can be seen as deepening awareness of the AIDS Problem while connecting this to guidelines for association activities looking toward the future.
(Note) See below. KITAMURA Kentaro, 2013, "Collaboration with the World and Anxiety of Aging: Issues the Voluntary Association for Hemophilia Faces," Research Center for Ars Vivendi (https://www.ritsumei-arsvi.org/en/news-198 ).
[Related Sites]