Making Public Assistance Function in the Japanese Society: Reconsidering Public Assistance through "Empowerment" and "Community"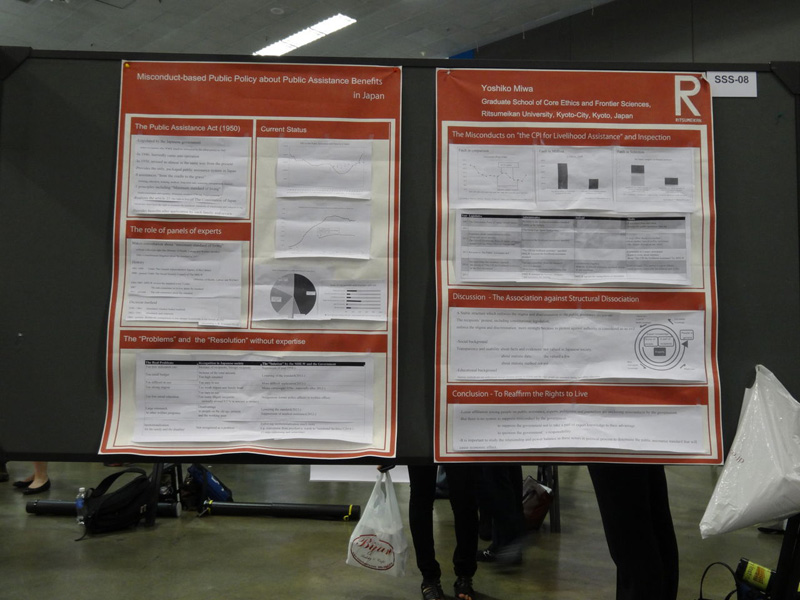 Just finished preparation for my presentation. Printed only the outer frame and background of the poster in Japan and 'cut and pasted' its contents using a mini printer in the U.S.
Now the number of public assistance recipients is more than 2.17 million persons (as of March 2015) in Japan. Public assistance which is disbursed by the central government and local government is used for such things as money for recipients (livelihood), performance (housing/education/medicine etc.) and assistance by caseworkers in the local government. Public assistance has various benefits to all people in the society either via direct or indirect way. For example, consumption of public assistance by recipients leads to income for local shops and lenders of housings. Thus, reduction of public assistance might have a major negative impact on the whole society. However, in spite of the suggestion of the advisory committee that reduction of public assistance should be conducted "with caution" (Report by the Social Security Committee/Public Assistance Standard Committee (2013)), the central government has kept reducing public assistance. Even the exact number of people who are in poverty but do not receive public assistance is not understood yet.
My research starts from such awareness of the current public assistance system. How can we investigate the living condition of recipients and necessary responses? Is the public assistance system which covers "from the cradle to the grave" by a single system best for current Japan? Does public assistance have any positive aspects that it is a cost which empowers recipients and vitalizes the local community?
I conducted my poster presentation about Japan's public assistance standard at the annual convention of AAAS (American Association for the Advancement of Science) which was held in San Jose on February 15, 2015. It especially focused on reduction of livelihood assistance since July 2013.
Most of the researchers who visited my poster presentation (more than 10) focused on the public assistance ratio which was only 10% of the poverty rate when they saw the graph comparing the poverty rate with the public assistance ratio. In 2012 the relative poverty rate in Japan was 16.1% (Comprehensive Survey of Living Conditions in 2013 (Ministry of Health, Labour and Welfare)). On the other hand, the personnel-based public assistance ratio in 2012 was about 1.7% (National Survey on Public Assistance Recipients in Fiscal Year 2012 (Ministry of Health, Labour and Welfare)). Since the relative poverty rate also includes people who "have property but do not have income", it cannot be simply compared with the public assistance ratio. Still, it is sure that public assistance as a right does not reach all target persons. Moreover, they also focused on the public assistance standard itself. Firstly, the public assistance standard itself seems low. In addition, there is no framework which essentially guarantees the validity of the standard. Furthermore, concerning formal objection to the standard, there is only one way—recipients themselves have to bring an action to the court. These questions toward the whole public assistance system also lead to another question of whether the public assistance system has a framework which guarantees "fundamental human rights". Some researchers asked me what I thought about it and what were necessary to change the situation. I responded to this question, saying that social education, including media coverage, is the key. Improvement of social education vitalizes the society and furthermore leads to a possibility of increasing people who reconsider the significances of the public assistance system and public assistance.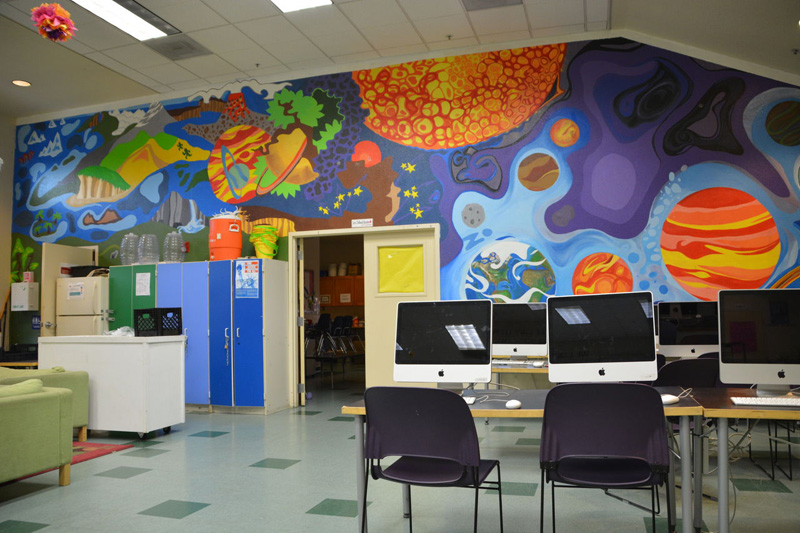 An area for elementary students set up in 'Sacred Heart'. After school 'homework club' is held. Students without a computer at home can do their homework with tutoring under the sufficient environment. It is also a support for their parents-they can work without worrying about being accused of neglect.
After my presentation which also deepened my thought about the public assistance system in Japan, I visited "Sacred Heart", a non-profit organization (hereafter NGO) for supporting needy persons in San Jose to see the organization and exchange opinions with staff there. Persons who have difficulties living their lives can visit NGOs and organizations which support them and have opportunities both to apply for public assistance and to have social education. Persons can receive a lot of options to achieve advantageous living measures both through provision of resources and through participation of volunteer activities, which leads to stable employment in some cases. One of the missions of "Sacred Heart" is to vitalize a community through a series of approaches which support persons with difficulties. The ways of supporting needy persons in the U.S., including other organizations I visited (for example, NAMI Santa Clara County), have plenty of tips when we consider the life security framework which cannot be measured only by public assistance benefits to individuals.
In Japan where population aging is continuing and poverty is widening, there is a high possibility that the necessity of public assistance will increase. Keeping this reality in our mind, we need to start to discuss public assistance regardless of its amount.
I would like to keep the relationship with the organizations I visited and develop my research so that it can provide something which makes the public assistance system in Japan function as the "society's ground water".
MIWA Yoshiko
Related Sites
This research achievement was financially supported by the research fund, "international research activities", a support system for enhancing research quality of young researchers of the Research Center for Ars Vivendi in academic year 2014.