Recognizing the Common Challenges Surrounding Communication Education in Japan and the United States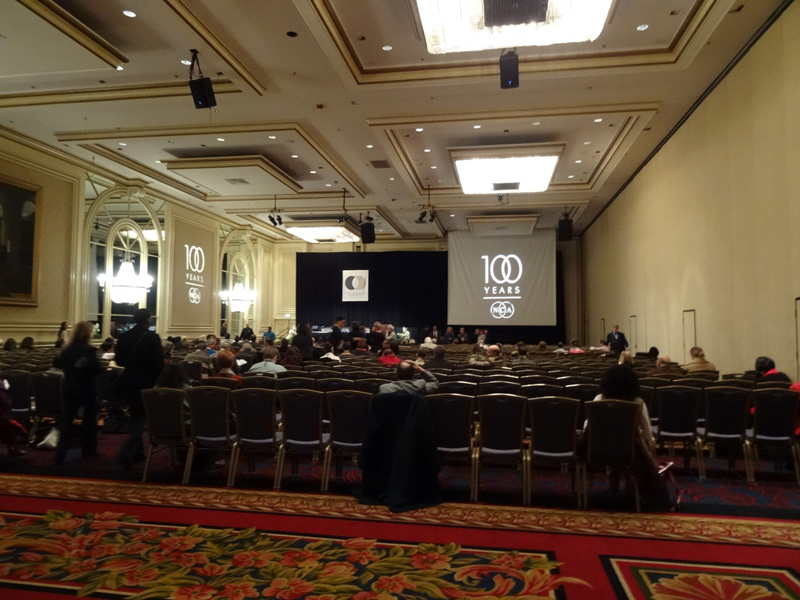 Opening Session of the Annual Convention of the National Communication Association
Recently the necessity to cultivate communication skills at schools has often been pointed out. According to the "questionnaires concerning new recruit" which were investigated by KEIDANREN[1] (Japan Business Federation) from 2004 through 2013, what companies valued most when hiring new recruits were communication skills.
A similar situation is also seen in the United States. Since 2003 such elements as communication skills, negotiation skills, presentation skills and common sense which are difficult to visualize have been valued more than qualifications and diplomas which are easier to visualize. In the United States, where communication research is more advanced, theorization of communication skills and educational practices including speech and debate have been attempted.
However, in Japan the word/concept of "communication" is used ambiguously. Moreover, communication skills tend to be seen as something that is acquired naturally as people grow up. Therefore, a systematic teaching methodology for cultivating communication skills has not been discussed enough. Meanwhile, the difficulty of establishment of the Western-centered teaching method of communication in the Japanese unique cultural context such as "reading between the lines" has been pointed out. I have been conducting comparative research concerning the understanding of communication and educational practices in Japan-U.S. educational settings in order to devise Japanese educational programs including curriculum development for cultivating communication skills in higher education.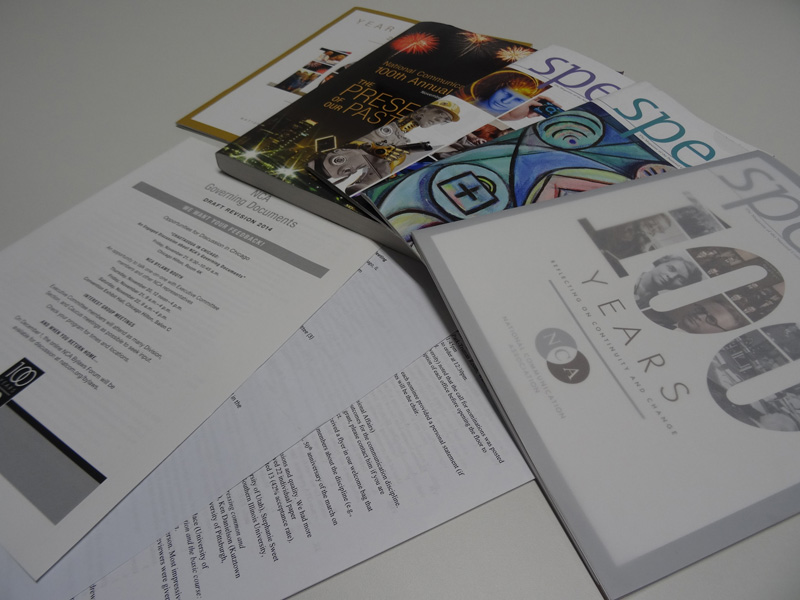 Bulletins of the National Communication Association
From November 20 through 23, 2014 I participated in the 100th annual convention of the National Communication Association (NCA). About 6, 000 persons participated in the convention and there were more than 1,200 sessions. At the invitation of Dr. Sherwyn Morreale, who supervised my research in the United States, I participated not only in research presentation but in the association's board meeting and working sessions concerning basic courses for cultivating communication skills.
One of the sessions included not only researchers but staff of the American College Testing[2] (ACT). An active discussion was conducted concerning how we should measure and develop communication skills whose appraisal standard is not established as a national language test. In another session it was pointed out that perspectives and realizations toward communication skills have changed with recent shifts to a digital society and that it is difficult to motivate students with existing teaching methodologies.
Through participation in this convention I became keenly aware that there exist common challenges toward cultivation of communication skills in both Japanese and U.S. educational settings. Some examples of them are the difficulty of setting a standard for evaluating the skills and changes of the nature of communication as a result of digitization. Also, in the United States, research has begun that forces reconsideration of traditional communication theories. Traditional communication theories work with development of extrovert which enables a person to make his/her personal statement in public places. I will renew my determination to develop a curriculum for communication education in Japanese higher education which has multiple perspectives of both Western and Non-Western communication theories including Japanese communication style which is described as introvert. Furthermore, I think that development of a theory/methodology of communication in public scenes which presuppose diversity in individuals can contribute to resolving of common issues of mutual differences in communication as well as differences in communicative behavior.
NOJIMA Akiko
[1] KEIDANREN
A comprehensive economic organization with a membership comprised of 1,329 representative companies of Japan, 109 nationwide industrial associations and 47 regional economic organizations (as of June 2, 2015)
[2] American College Testing
A host organization of the ACT college readiness assessment – the college admissions and placement test in the United States