Educational Uses of Digital Games in Korea
1.'Good Game Show Korea': A Game Show Held by the Korean Government Aiming at Uses and Spread of Good Games and Serious Games. An Example of Effort of Game Promotion (Picture Taken on May 29, 2015)
In controversies concerning digital games, the way of using the games in education has been discussed as a central theme.
In Korea an incident occurred in which a young couple neglected their child and caused the child to shut down due to their addiction to digital games in 2010. This incident had an impact on the society, which led to the rapid spread of people's negative perception of digital games. In 2011 the Korean government passed the Shutdown law, also known as the Cinderella law, forbidding children under the age of 16 to play digital games from 12:00 A.M. to 6:00 A.M. Furthermore, the government keeps trying to establish a law which regulates digital games as an addictive medium such as alcohols, drugs and gambles.
Under the circumstances, I conduct my research concerning a possibility of educational uses of digital games in Korea. So far digital games have been rarely used for educational purposes in Korea. Moreover, little research has been conducted which examines a possibility of digital games for educational uses. However, in contrast to the past situation, the Korean government now focuses on a possibility of digital games for educational uses, thus indicating that they support the development and spread of what we call "good" games. The most attention received is serious games. Serious games are games designed not only for pure entertainment but also for specific purposes including education and training. Recent research shows that serious games are used in various areas including education, military, medicine and welfare.
With such backgrounds there are two reasons I come to focus on serious games. Firstly, serious games include expertise. While serious games are games, they can provide players with specific information and feedback. Secondly, since serious games have two characteristics—aspects such as interaction, attention and motivation which have effects on education and amusingness as a game, they can be used widely in educational settings—serious games have a profound effect on their uses. Furthermore, from the viewpoint of game industries they expect a new economic effect through their active development/sales of serious games as an educational tool.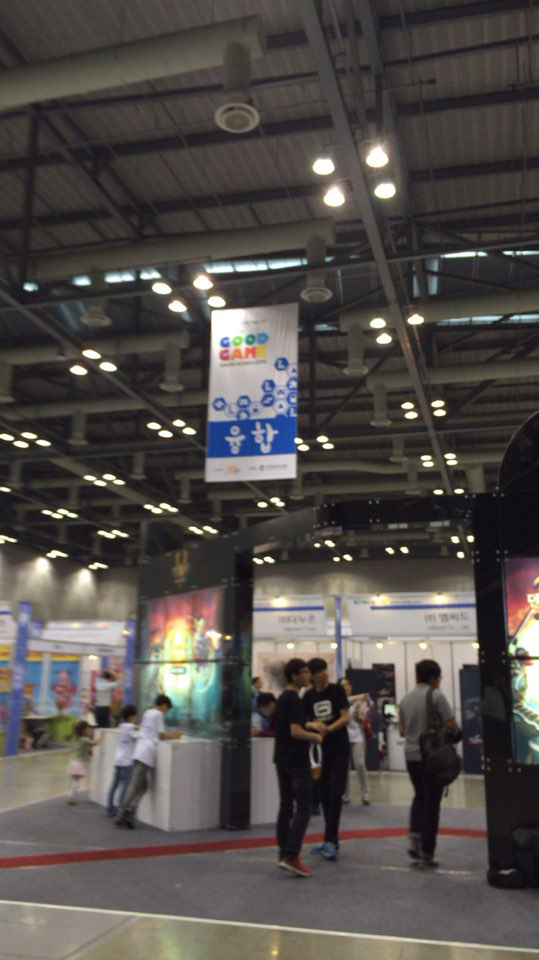 2.'Good Game Show Korea' (Picture Taken on May 29, 2015)
However, on the other hand, it is difficult to compile definition of serious games in Korea at this point. The reason for this is that since the definition of "serious" is not clear, it is difficult to distinguish serious from other similar concepts of "Edu-Game" (edutainment game which connects education with entertainment) and "Gameification" (aiming for effective problem solving by applying properties games have to areas other than games and immersing them). Consequently, it is used with confusion. Also most of the research concerning uses of digital games for education focuses on support education and language learning of children with developmental disabilities including ADHD and autism spectrum disorder. Thus, there is an issue of restriction of the subject.
Still, the more IT technologies develop, the higher usability of digital games in education becomes and wider development of serious games will be conducted. Serious games have a value as an educational tool for a new generation, that is, "digital natives" and they will seem to become an effective and a natural medium.
Although digital games have been regarded as a social problem and have generated people's negative perception in Korea, I will keep conducting my research by focusing on serious games and good digital games in educational settings, aiming that they can be used more widely, effectively and universally.
SHIN Juhyung
Related Site
This research achievement was financially supported by the research fund, "international research activities", a support system for enhancing research quality of young researchers of the Research Center for Ars Vivendi in academic year 2014.