Related Status of ALS in Modern Korea: Participating in Academic Convention of Korean ALS Association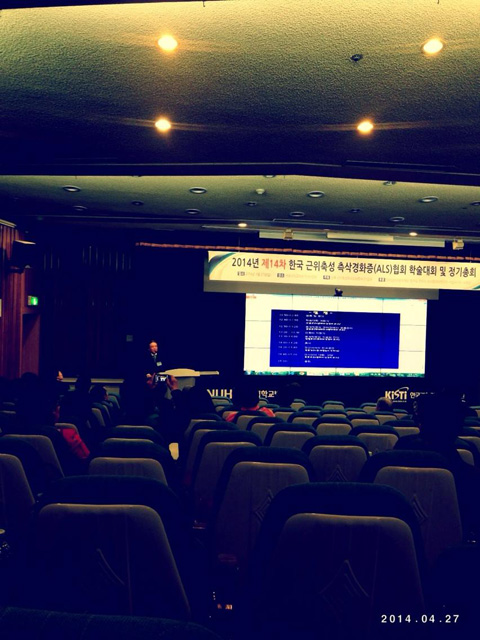 I have been conducting comparative research in Japan and Korea to get a comprehensive perspective concerning the relationship between difficulties people provide care to persons with Amyotrophic Lateral Sclerosis (hereafter ALS) within families and support systems persons with ALS can use.
ALS is a progressive intractable disease with various causes. It is characterized by reduction of muscular function and it leads to physical disability, difficulty in speaking (dysarthria), and breathing (dyspnea). It also requires 24 hour care since its early stage. The involved persons with ALS are generally called as "ALS patients." However, in my research, I rather prefer to use "persons with ALS." The reason is that persons with ALS are not only patients with medical needs but also persons with needs of life support. Therefore, I think that the expression of "patients" makes the aspect of life support less-visible.
In order to understand the current situation in Korea over ALS, I participated in the Academic Convention/General Meeting of Korean ALS Association in Korea on April 27, 2014. All presenters were doctors who had examined a lot of persons with ALS in Korea. The contents of the presentations were "Dysphagia and breathing management of persons with ALS" and "Treatment and prospect of ALS." In the former presentation it was pointed out that the situations of swallowing and breathing should be managed properly from the early stage of the disease. Also, introduction was made concerning the latest information of ventilators. In the latter presentation the current situation of clinical experiments on the worldwide treatment method of ALS was introduced. In this convention, which was 14th this time, presentations were conducted concerning doctors' guidance of how to care for persons with ALS and their families, and therapeutic development.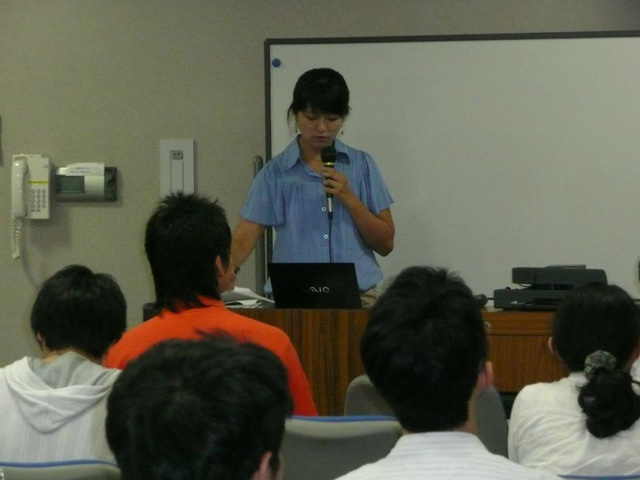 In Japan after a person is diagnosis as ALS, he/she and his/her family are asked whether he/she has a ventilator. On the other hand, in Korea there is no such procedure. Since I was very concerned about a doctor's opinion about it, I asked a doctor what he thought about a person who decided not to have a ventilator in the world. His answer to my question was that accidental sinking of the vessel this time was a good example and that by the thought of victims' struggles without breathing in the darkness a person with ALS should have a ventilator. This answer directly represents Korean people's awareness concerning the ventilator. The awareness presupposes family's care because the Korean welfare system does not allow persons with ALS to live by themselves in case they cannot be hospitalized for a long time. In the light of these conditions I consider it significant that I conduct research on establishment of a support system which can reduce the burden of families who are forced to provide care.
In the Convention I also had an opportunity to have my say and I introduced my research. I talked about ①heavy burden of care by families, ②helpers' fluent rejection of care to persons with ALS even under the care support system, ③necessity of providing equipments without charge which assist persons with ALS with progress of their physical disabilities, and ④possibilities of increase of caregivers. Concerning the issue of family and care, some people whose family member was a person with ALS were expressing their agreement at frequent intervals as they listened to me. And then in an interview survey I reconfirmed that establishing the relationship between helpers and families was difficult. Also, as for a communication device, Korean National Rehabilitation Center let us know that research on Brain Machine Interface (BMI) –the technology which could control external equipments by analyzing the nerve signals of the brain—had just begun and there was a call to persons with ALS for its demand survey. I built up expectations that various trials would be made concerning communication devices for persons with ALS in the near future.
This convention was a very important opportunity for me because I was able to get the latest information in areas including medical treatment, care, and development of communication devices. At the same time, as a researcher, I keenly felt that I should conduct research aiming at a society where persons with ALS can live their life with their family humanly until the very end of their life and their family can live without the burden of care.