Of the Living as Housewives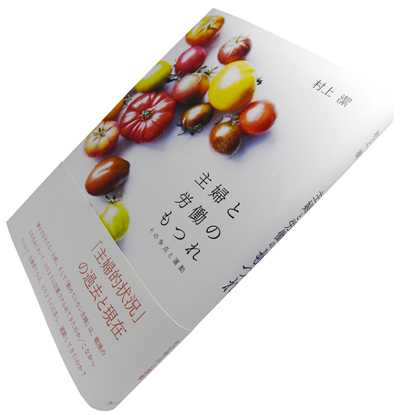 MURAKAMI Kiyoshi Entanglement of Housewives and Labor: Issues and Movements (Rakuhoku Shuppan, 2012)
I am not a housewife nor am I having a housewife-like life. I do not particularly long for a housewife nor do I feel repelled by it.
I am greatly attracted to tangles and a shadow of anxieties housewives are supposed to have. Then, I would like to keep considering the meaning of living in the "the situation as housewives".
I have lived without being aware of the necessity of making housewives a "research subject" very much. When I look back, I feel that the time, situations, and phenomena which are futile and seem not to be valued on the world's standard –very "housewife-like"– influence me somehow.
I think I will have to tackle the task of expressing such time, situations and phenomena in the future, but from the time being I am going to keep collecting various records of housewives' living and struggles that have been expressed. These records are my "research field"*1. In yellowing and torn printed materials, I meet unknown housewives, have a dialogue with them, and then describe their lives. Moreover, I connect them with other housewives' lives. In some cases I write words "as a housewife" which were not written by their pencils. This is the only way to recall buried and forgotten lives.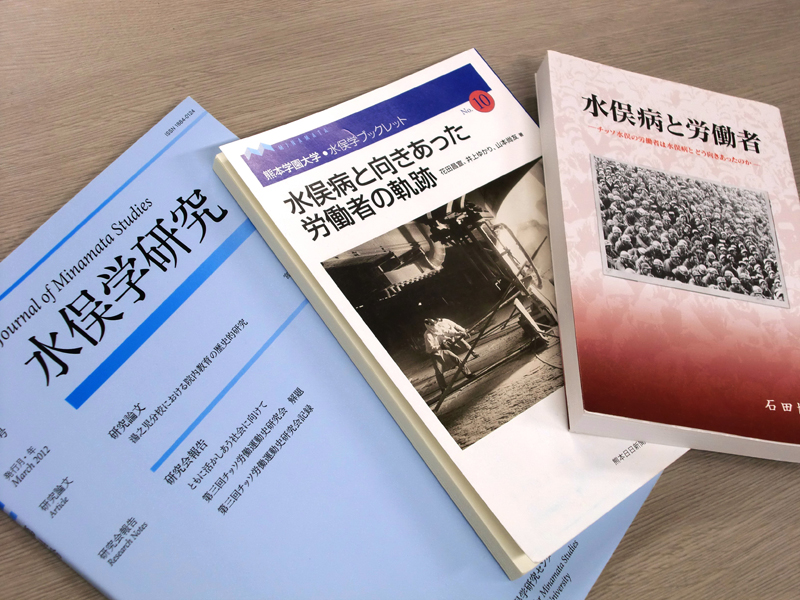 Books Related to Minamata Studies and the Shin Nihon Chisso Union
I come upon a new clear "research field" in 2013. It is Minamata. I conduct a survey on Housewives' Association of the the Shin Nihon Chisso Union, which is the housewives' collective at the labor union of Chisso Corporation (the name from 1950 through 1965 was Shin Nihon Chisso Hiryo K.K.). Although this seems a pinpoint subject setting at first glance, I think that it is the subject containing various potentials since it relates to ①women's movement studies, ②labor movement studies, ③consumer movement studies, and ④area studies (Minamata studies).
Housewives, who are different from men labors in charge of the mainstream labor movements, have to consider homes, conduct housework, take care of their children and parents, and deal with local issues such as educational or environmental ones. Based on their peculiar position and roles, how did housewives live their lives under labor disputes and in the area of Minamata? What did they think and how did they act? And now what would they like to turn over to women there? I would like to unite such historical and social knots one by one.
In the end, what led me to Minamata was "collaborative field research in Kumamoto Prefecture", which was parts of the activities of "Life of Minority in Local Community: Sociological Study on Movement of Practice and Dynamics of Political Intervention" (i.e., the project led by graduate students at the Global COE Program Ars Vivendi in academic year 2009 and 2010). Had I not visited Minamata then, I would not have probably set this research issue. Ars Vivendi enabled me to have connection with Minamata. Therefore, I would like to contribute to Ars Vivendi through this research,somehow.