Considering "Treatment" through Stevens-Johnson Syndrome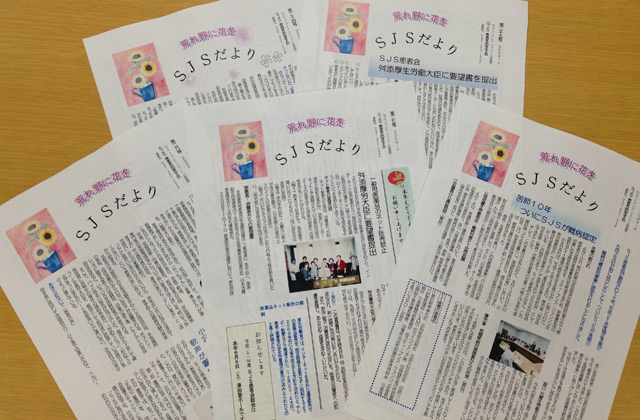 SJS Newsletter Published by the Association for Encouraging Patients with SJS (This Photo Is Run with Permission of the Association)
The general meeting of the Japan Stevens-Johnson Syndrome (hereafter SJS) Foundation was held at Tsuda Hall in Sendagaya on June 8, 2013. Its members had a happy reunion at the reception and other places after all these months or years. Reunion itself was as if it were miracle for those who caught an unanticipated disease, lay between death and life, and lost their vision. Some participants caught up on each other's lives to consider each other's physical condition. Others hurried through the meeting and started to make a plan for going out drinking. The members come to the meeting from all over the country. Many of them, however, have unstable health or need caregivers for transferring. The meeting, therefore, is a precious opportunity of reunion for them.
SJS is a type of severe erythema multiforme, which is the object of the Specified Disease Treatment Research Program. According to the homepage of the Japan Intractable Diseases Information Center (in Japanese), the disease is estimated to occur in approximately 1 to 10 person(s) per a million population per year. The disease develops at any age—from children to the aged. Although its cause/mechanism is not clear, it is estimated that immunological change arises because of drugs, infectious diseases, and so on. However, it is difficult to predict its pathogeny before drug exposure. The sufferers experience high fever and have a lot of blisters all over their bodies. Their prognosis may involve permanent damage such as their eyes and respiratory organ after lightning of skin manifestations. Some of them may even die from multiple organ failure. The mortality rate is 6.3%. The rate of toxic epidermal necrosis (TEN), which is a severe type, reaches 20-30%.
It was on December 2, 2001 that I participated in the meeting of the Japan SJS Foundation for the first time. It was the Kansai Region's first meeting which was held in Senri Chuo, Osaka. The number of participants was several persons including me. Many of us lacked the knowledge of SJS and lived isolated lives since our surroundings did not even know the name of the disease. The more we talked about its severe symptom in the beginning of its pathogeny and our later lives, the more common points we found and consequently, it enabled us to feel that we knew each other.
At first, I participated in the meeting as one of the patients with SJS. Now, this meeting is also my research object as a graduate student. I have investigated experiences of persons who had had osteo-odonto-keratoprosthesis mainly by interview surveys. This is an astonishing surgery which implants one's teeth into one's eyes to recover vision. It was a person who lost vision due to SJS that took this surgery for the first time in Japan. This should be a good story everyone welcomes since the person who lost vision recovered vision. Surely, it could be said that numerical vision recovered. However, various inconveniences occurred on a daily basis such as the characteristic of the way of seeing, daily care, and change of appearance etc. This made me question what "treatment" meant. These inconveniences after treatment and responses to them shook my way of thinking toward "treatment".
The drug that a person takes as a remedy for a disease favors the development of a totally different disease and he/she has to keep the treatment against the aftereffect even after the former disease's acute phase symptom is subsided. SJS questions what medical care has conducted as "treatment" brings. There are still many things to be examined about "treatment" through SJS.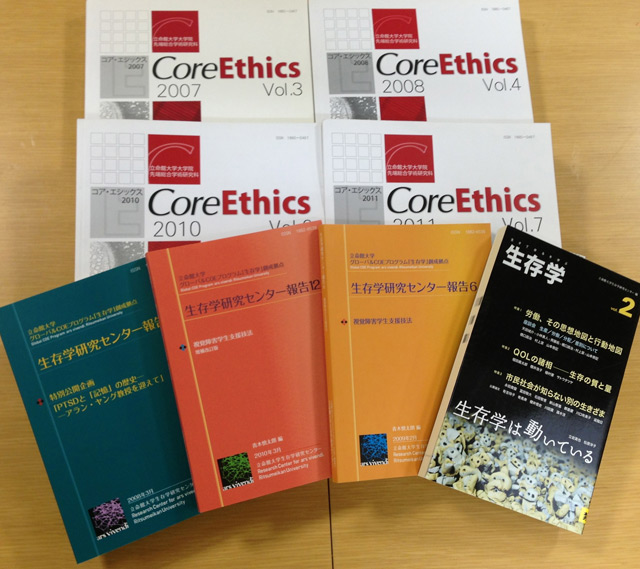 Bulletins and Journal in which My Papers Are Published
Various study groups have been organized at the Research Center for Ars Vivendi since its program, Global COE Program Ars Vivendi, has been adopted (Its adoption ends as of Academic Year 2011). I have advanced my research by participating in Study Group on Disability Studies and Study Group on Ars Vivendi of Nanbyo and so on. Not only have I deepened examination with the other members but have I received research support such as participation fee of the above meeting and investigation fees etc. Such fulfilling environment have supported my research activities.