Report on the Special Lecture by Prof. Ikuro Anzai Organized in Cooperation with the Japan Association for Bioethics (October 28th)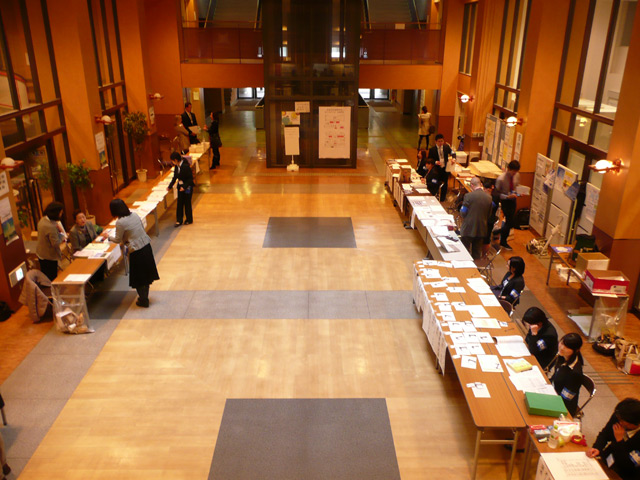 The 24th Annual Conference of the Japan Association for Bioethics was held October 27th – 28th, 2012 at Ritsumeikan University's Kinugasa campus.
Bioethics is a field in which various issues related to "life,"such as euthanasia and abortion, are considered from an ethical perspective, and to a large extent its subject matter overlaps with this center's research focus. The conference was organized around a central theme of "Seizon and Bioethics," with Prof. Shinya Tateiwa, a member of this center's management committee, serving as conference chair and Profs. Izumi Otani and Yoko Matsubara serving as conference executive committee and conference administrative committee chairs respectively. The staging of the event was concluded successfully, with 525 participants (roughly the same number who attended last year's conference at Waseda University) having taken part.
Among the various conference events, this center was particularly involved in organizing, in collaboration with the Association for Bioethics, a special lecture given by Prof. Ikuro Anzai on October 28th.
Prof. Anzai has taught for many years in Ritsumeikan University's International Relations Department and has also served as curator of Ritsumeikan University's Kyoto Museum of World Peace. Following the recent accident at the Fukushima nuclear power plant his statements as a critic of the Japanese nuclear power industry and an expert in the field of radiation protection have received a lot of attention in Japan.
He was invited to speak on this occasion by this center and the Association for Bioethics because we wanted him to discuss, as an expert in this field who since its inception has relentlessly engaged in internal criticism of the Japanese nuclear industry, the Fukushima accident from the perspective of "research ethics."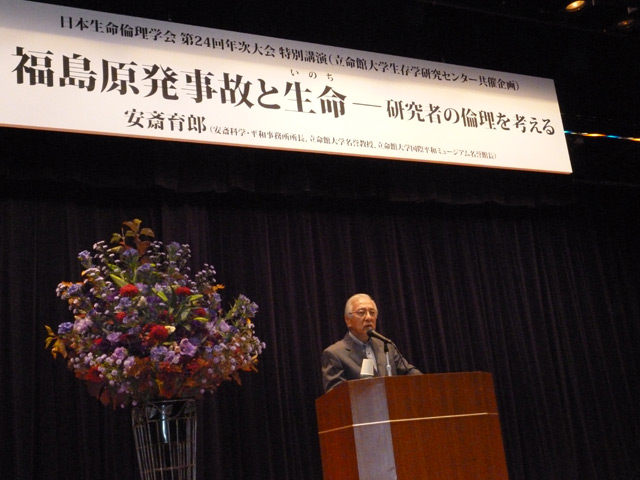 Prof. Anzai's lecture was entitled "The Fukushima Nuclear Accident and Life ("Inochi") – Considering Research Ethics," and in line with our expectations he provided a clear exposition of the ethical stance required of scientists and researchers through the example of his own career as an expert in this field who has maintained a critical attitude toward the nuclear power industry consistent with his position as a researcher. Having been at the center of research in this area since projects related to nuclear power first began to be carried out, he talked calmly and even humorously about the various forms of harassment, including being followed, spied on and threatened, that he has received from nuclear power companies and others as a result of his constant criticism regarding issues such as the concealment of facts that could prove inconvenient for the development of nuclear power initiatives, and everyone in attendance was forced to ask themselves whether they could have maintained the same attitude if they had been in his place.
The lecture began with the observation that while science is value-neutral the same cannot always be said about scientists who use science to conduct research, and Prof. Anzai then went on to emphasize the importance of the principle, based on an awareness of the fact that the scope of what can be resolved by science in a value-neutral manner is limited, that the value of what has not been proven to be true should not be underestimated.
As a result of the Fukushima accident, the structure of the nuclear power industry in Japan, which has consistently underestimated the risks of nuclear power, has now become clear to a large number of people. Unfortunately, however, the same structure exists when it comes to waste disposal and the resumption of nuclear power generation as it has been carried out in the past. Listening to this lecture I was made keenly aware once again of the importance of issues concerning "life, science, and technology".