Considering How to Live in the Unrelated Society
Now the word of "the unrelated society" is often used to represent the social condition in which the territorial relationship, blood relationship, and social relationship etc. become poor and interrupted. What this word means is that there are many people who would like to have various human relationships in the society but cannot do so. When we consider the issue of the unrelated society, we need to consider what the isolated people desire in order to live, why they choose the isolated life, or why they have to choose it.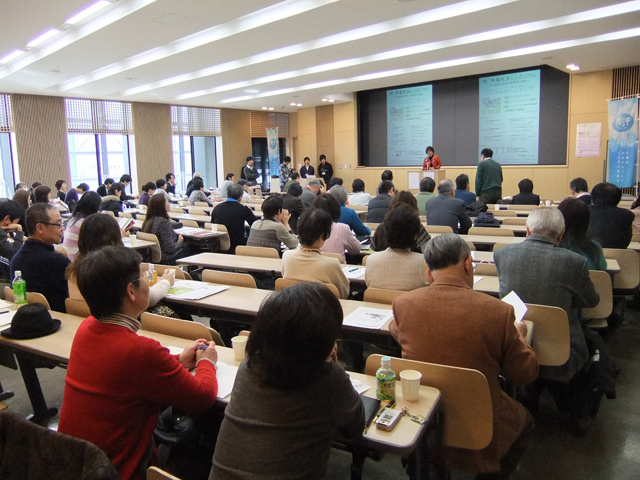 One of the solutions of this issue is to have such places as "a place at a town," "a veranda of a town," and "a community café," where every people can gather easily and those places are getting the attention. In order to conduct a survey of those places, I, together with students at the College of Social Sciences of Ritsumeikan University and Kyoto citizens, launched a "Tsunagaru Kyoto Project" (Connecting Kyoto Project), and have conducted various activities with support of Kyoto City and 100 Committee for Future Town Development in Kyoto City. Then we held a "Symposium for Getting Rid of the Unrelated Society," and presented the project's survey result on March 5, 2011.
In particular, we presented case studies concerning the places and what kinds of people used the places etc. Many women operate the rooms and this is different from the way of local welfare in which men manage as chairperson etc. In my opinion, if practice of local welfare coexists with the places, welfare will develop more in the future. From now on, we are planning to examine what kinds of possibilities of coexistence the practice of local welfare and the places have, conduct surveys concerning case studies of its coexistence, and clarify its effects.
Concerning the places we surveyed this time, we published a Kyoto Version Map11' Showing Veranda of Towns for People-to-People Connection in March 2011 and introduce the places. Some media covered a story about this publication and there were many inquiries from citizens, local governments etc. Many of them included significant information such as the places I had not known. I felt the importance of people-to-people "connection" through this survey and presentation.
I would like to take this opportunity to thank all of the people who were involved in the "Symposium for Getting Rid of the Disconnected Society," and the Kyoto Version Map11' Showing Veranda of Towns for People-to-People Connection.