AY2015 International Conference "Catastrophe and Justice: Migration"
published: 2016-02-25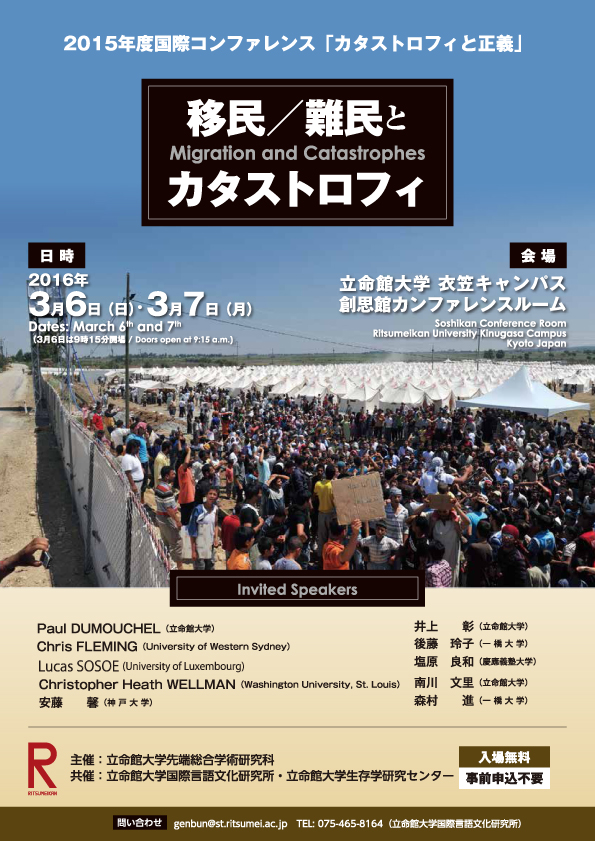 *Download the flier
(PDF version: 1.5MB)
Host
Graduate School of Core Ethics and Frontier Sciences, Ritsumeikan University
Co-host
International Institute of Language and Culture Studies, Ritsumeikan University
Research Center for Ars Vivendi, Ritsumeikan University
Date
March 6, 2016 (Sun.) 9:45-17:45
March 7, 2016 (Mon.) 10:00-18:00
Place
Conference Room, Soshikan Hall, Kinugasa Campus, Ritsumeikan University
Access Map
Campus Map (*30 is the building this conference is held)
*Participation: Free of Charge / No Advance Application Necessary (Partial participation is welcomed, too.)
*There is no parking available at the venue, so please use public transportation.
Outline
In this event, we focus on "catastrophic situation of migration" as a part of the research program entitled "catastrophe and justice" at the International Institute of Language and Culture Studies, Ritsumeikan University. Catastrophic situation of migration has been regarded as a problem for a long time and nowadays it is discussed radically over the acceptance of Syrian refugees. In this event we will examine catastrophic situation of migration from various viewpoints including normative theories (especially theory of justice), sociology and anthropology.
Invited Lecturers
Paul DUMOUCHEL (Ritsumeikan University)
Chris FLEMING (University of Western Sydney)
Lukas SOSOE (University of Luxembourg)
Christopher Heath WELLMAN (Washington University, St. Louis)
Kaoru ANDO (Kobe University)
Akira INOUE (Ritsumeikan University)
Reiko Gotoh (Hitotsubashi University)
Yoshikazu SHIOBARA (Keio University)
Fuminori MINAMIKAWA (Ritsumeikan University)
Susumu MORIMURA (Hitotsubashi University)
Presenters of Student Sessions
Taichi KISHIMI (Waseda University)
Masato FUKUHARA (The University of Tokyo)
Tosuke YAGI (Ritsumeikan University)
Kenichi BANSHO (Ritsumeikan University)
Languages
English except for parts of Student Sessions (We can accept questions in Japanese since an interpreter is available during Q&A sessions.)
*For details please refer to the poster program (PDF file).
Inquiry
International Institute of Language and Culture Studies, Ritsumeikan University
E-mail:genbun@st.ritsumei.ac.jp