Thirteenth "Africa in Front of Us" Seminar: "Transforming Guns into Hoes": The Role the Peace Establishment Project Has Played and ESD
published: 2015-12-03
Event Overview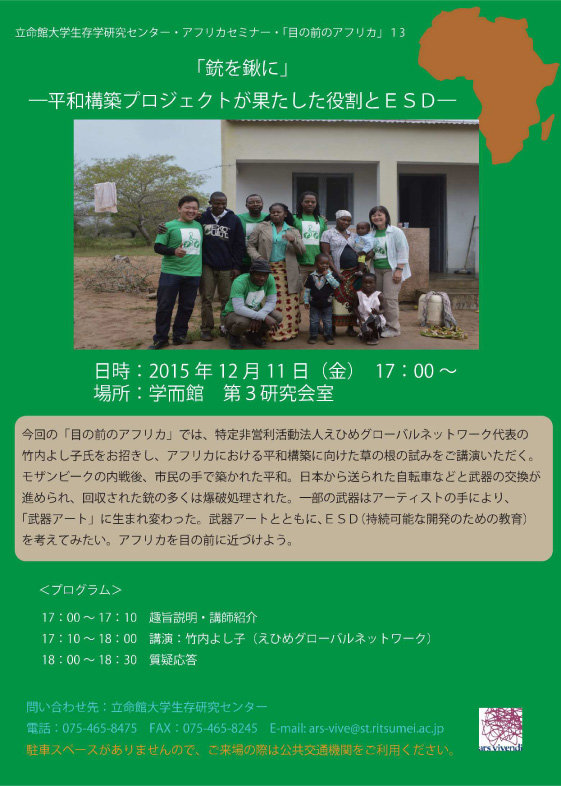 Download the Flier in
Japanese (PDF)
We invite Ms. Yoshiko Takeuchi, who is the representative of Ehime Global Network this time and perform a lecture concerning the grass-roots effort toward peace establishment in Africa.
After Mozambican Civil War peace was established by citizens. Weapons were exchanged for bicycles sent from Japan, etc. and many of the guns collected were blasted. On the other hand, some guns collected were reincarnated as "weapon art" by artists.
We will consider ESD (Education for Sustainable Development) with weapon art.
Let's take ourselves to a stone's throw from Africa.
Outline of Lecture
Date:December 11, 2015 (Fri.) 17:00-18:30
Place:3rd Study Group Room, Gakujikan Hall, Kinugasa Campus, Ritsumeikan University
Host: Research Center for Ars Vivendi, Ritsumeikan University
Participation: Free of Charge / No Advance Application Necessary
Language: Japanese
Program
Inquiries
Administrative Office, Research Center for Ars Vivendi, Ritsumeikan University
56-1 Tojiinkita-machi, Kita-ku, Kyoto 603-8577
E-mail: ars-vive@st.ritsumei.ac.jp
TEL: +81-75-465-8475
FAX: +81-75-465-8245
*There is no parking available at the venue, so please use public transportation.