Movie Screening M
published: 2015-11-06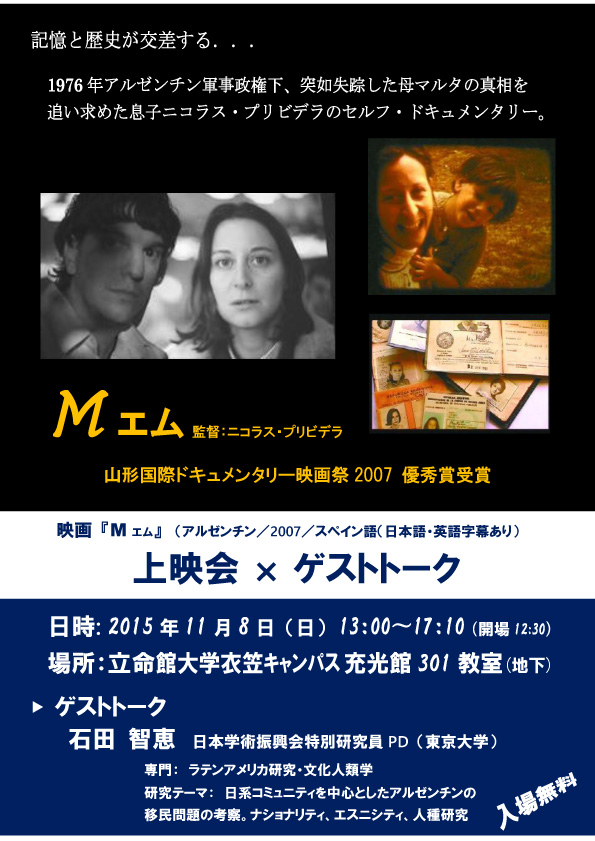 Flyer in Japanese (PDF: 425KB)
Date:November 8, 2015 (Sun.) 13:00-17:10
Place:#301 Jukokan Hall, Kinugasa Campus, Ritsumeikan University
Host: Research Center for Ars Vivendi, Ritsumeikan University
Participation: Free of Charge/No Advance Application Necessary
Language: Japanese
* There is no parking available at the venue, so please use public transportation.
Event Overview
The letter "M" stands not only for mother, but also for Montoneros, a Peronist guerrilla group. Marta Sierra, a mother of Nicolás Prividera, this movie's director and scriptwriter, was abducted and disappeared suddenly when he was six years old.
It was said that the Argentine military dictatorship at the time abducted about 30,000 persons that the dictatorship regarded as dissidents. However, as with Marta's case, its truth has not been disclosed. Nicolás said that after he once accepted the circumstance that the country and his family kept silent about his mother's disappearance, he threw himself into an investigation of the real traces and signs of the disappearance.
This Nicolás' action can be said as his attempt to find out the meaning both of the reality of his mother's "absence" he has carried on his shoulder with isolation and of why this had to be kept silent among thousands of isolated crowds of people in Argentina. When Marta's "absence" is told in the context of lives of others who know her, her "life" will appear. It is the issue of "absence" and "memory" that we face, not a story of distant Argentina.
We invite Dr. Chie Ishida, PD of the Japan Society for the Promotion of Science Research Fellowship for Young Scientists. Dr. Ishida, whose main research field is the nikkei community in Buenos Aires, Argentina, conducts multifaceted research concerning the way of the person's existence and its movement and transition in Latin America society, modern Japan and Asia. Dr. Ishida explains this tragedy under the Argentine military dictatorship from the context of societies of the world / Latin America / Argentina at that time. Moreover, Dr. Ishida explains "silence" toward the tragedy that has been kept since then in the Argentina society. Then, we have a question and answer session and discussion with the floor.
Program
13:00~13:10
Event Overview
13:10~13:40
Explanation of Time Background of the Movie (World / Latin America / Argentina)
Lecturer:Chie Ishida
13:40~13:45
Break
13:45~16:15
Movie Screening M (150 min.)
16:15~16:30
Break
16:30~16:50
Lecture Chie Ishida
What Silence toward "Absene" Brings about: "Disappeared Persons" and "Memory" under the Argentine Military Dictatorship
16:50~17:10
Q & A and Discussion
Inquiries
Administrative Office, Research Center for Ars Vivendi, Ritsumeikan University
56-1 Tojiinkita-machi, Kita-ku, Kyoto 603-8577
E-mail: ars-vive@st.ritsumei.ac.jp
TEL: +81-75-465-8475
FAX: +81-75-465-8245