Open Seminar "Considering the Never-ending Issue of Leprosy: Movie 'Leprosy and Three Acts'"
published: 2015-10-22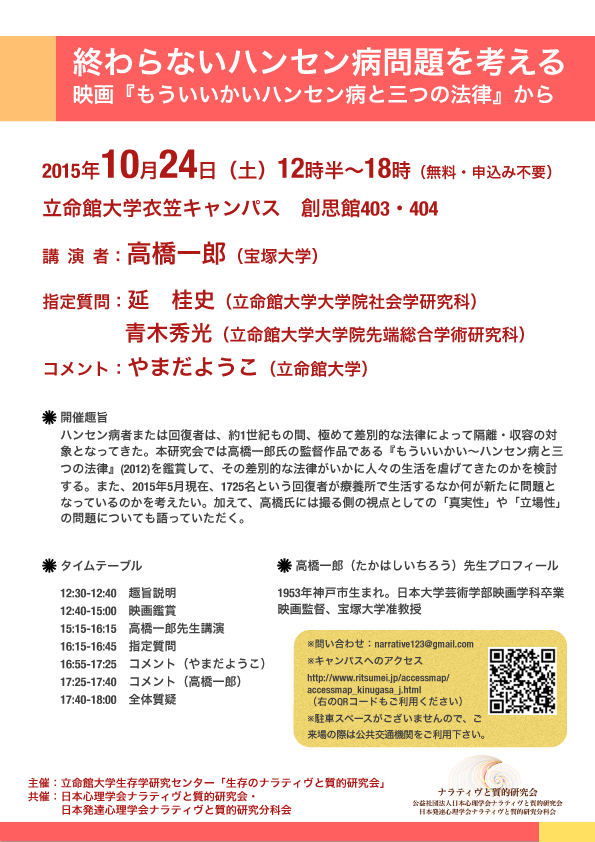 Download the Flier in Japanese (PDF Version: 799.6KB)
Date:October 24, 2015 (Sat.) 12:30-18:00(Doors Open 12:00)
Place:#403/404 Soshikan Hall, Kinugasa Campus, Ritsumeikan University
Host:Research Center for Ars Vivendi of Ritsumeikan University "Study Group on Narrative and Qualitative Studies concerning Ars Vivendi"(Project for Enhancing Research Quality of Young Researchers)
Participation: Free of Charge/No Advance Application Necessary
Language: Japanese
* There is no parking available at the venue, so please use public transportation.
Event Overview
People with leprosy/affected by leprosy have been targeted for segregation and institutionalization by highly discriminatory acts for about a century. In this seminar, we watch a movie entitled Leprosy and Three Acts (2012; in Japanese) and examine how the discriminatory acts have oppressed people's lives. In addition, we consider what becomes a new problem while 1,725 persons affected by leprosy live at sanatoriums (as of May 2015).
Furthermore, Mr. Takahashi talks about issues of "truth" and "positionality" viewed from the side of the filmtaker.
Program
12:00a
Doors Open
12:30-12:40
Event Overview
Hidemitsu Aoki(Student, Graduate School of Core Ethics and Frontier Sciences, Ritsumeikan University)
12:40-15:03
Movie Viewing
Leprosy and Three Acts
15:03-15:15
Break
15:15-16:15
Lecture Ichiro Takahashi(Movie Director/Associate Professor, Takarazuka University)
16:15-16:45
Designated Questions
Keishi Nobu (Student, Graduate School of Sociology, Ritsumeikan University)
Hidemitsu Aoki
16:45-16:55
Break
16:55-17:25
Comment Yoko Yamada(Professor, Kinugasa Research Organization, Ritsumeikan University)
17:25-17:40
Comment Ichiro Takahashi
17:40-18:00
Q & A
Inquiries
Administrative Office, Research Center for Ars Vivendi, Ritsumeikan University
56-1 Tojiinkita-machi, Kita-ku, Kyoto 603-8577
E-mail: ars-vive@st.ritsumei.ac.jp
TEL: +81-75-465-8475
FAX: +81-75-465-8245