Lecture by Masakatsu Yamazaki "Yasushi Nishiwaki, Scientist, Lived in the Nuclear Age: From the Bravo Affair to Russell-Einstein Manifesto"
published: 2015-09-17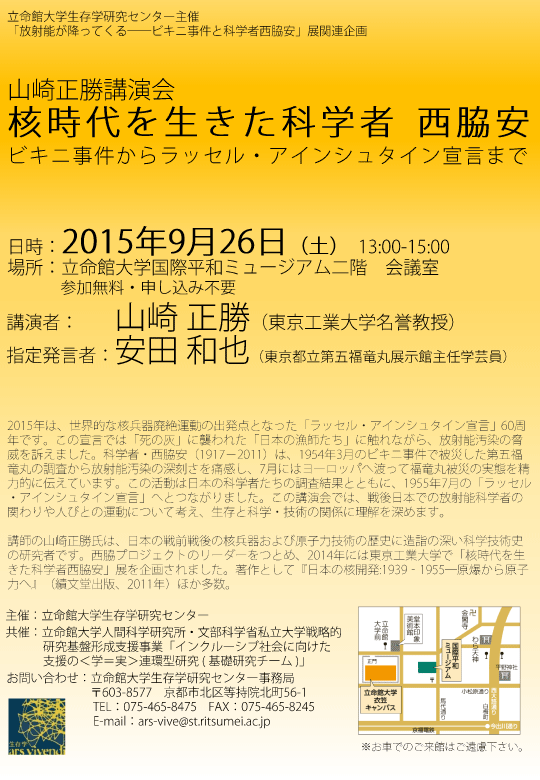 Download the Flier (in Japanese) (PDF Version:344KB)
Lecturer:Masakatsu Yamazaki(Professor Emeritus, Tokyo Institute of Technology)
Designated Speaker:Kazuya Yasuda(Chief Curator, Daigo Fukuryū Maru Exhibition Hall)
Language:Japanese
Date:September 26, 2015 (Sat.) 13:00-15:00
Place:Meeting Room (2nd Floor), Kyoto Museum for World Peace, Ritsumeikan University
Participation: Free of Charge / No Advance Application Necessary
* There is no parking available at the venue, so please use public transportation.
Overview
2015 is the 60th anniversary of Russell-Einstein Manifesto which became a starting point of the worldwide anti-nuclear movements. In this manifesto, scientists complained about the threat of radioactive pollution mentioning about Japanese fisherpersons struck by "ashes of death". Yasushi Nishiwaki (1917-2011), a scientist, keenly felt the seriousness of radioactive pollution from the investigation of the Lucky Dragon (Daigo Fukuryū Maru) incident which occurred in March 1954 and he went to Europe in July 1954 in order to let people in Europe know about the actual situation of the Lucky Dragon incident energetically. This activity, together with investigation result by Japanese scientists, led to Russell-Einstein Manifesto in July 1955. In this lecture, we will consider two things—scientists' involvement in radiation and people's movements in postwar Japan. By doing so, we will deepen our understanding about the relationship between ars vivendi (art of living) and science/technology.
Mr. Masakatsu Yamazaki is an outstanding researcher of science technology concerning the history of nuclear weapons and atomic technology in postwar Japan. Mr. Yamazaki served as a leader of Nishiwaki project and he planned the exhibit of "Yasushi Nishiwaki who Lived in the Nuclear Age" at Tokyo Institute of Technology in 2014. He has published many books including Nuclear Development in Japan from 1939 to 1955: From Atomic Bomb to Nuclear Power (published in Japanese through Sekibundo Shuppan).
| | |
| --- | --- |
| Host | Research Center for Ars Vivendi, Ritsumeikan University |
| Co-host | Institute of Human Sciences, Ritsumeikan University (Fundamental Research on Social Inclusion and Human Support) |
Inquiries
Administrative Office, Research Center for Ars Vivendi, Ritsumeikan University
56-1 Tojiinkita-machi, Kita-ku, Kyoto 603-8577
E-mail: ars-vive@st.ritsumei.ac.jp
TEL: +81-75-465-8475
FAX: +81-75-465-8245
"Translational Studies for Inclusive Society" Project is supported by the MEXT-Program for the Strategic Research Foundation at Private Universities, 2013-2015.