"Against Hate Speech: Streets / Schools / Universities"
published: 2015-07-09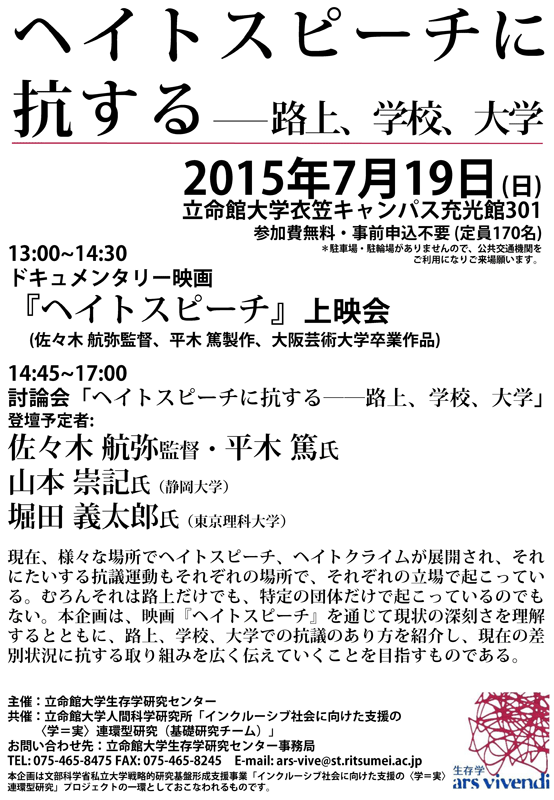 Download the Flier in
Japanese (PDF:315KB)
Date & Time: July 19, 2015 (Sun.) 13:00-17:00
Place: #301 Jukokan Hall, Kinugasa Campus, Ritsumeikan University
Host: Research Center for Ars Vivendi, Ritsumeikan University
Co-host: Institute of Human Sciences, Ritsumeikan University "Translational Studies for Inclusive Society" (Fundamental Research on Social Inclusion and Human Support)
Free of Charge / No Advance Application Necessary (Capacity: 170 Persons)
Language: Japanese
* There is no parking available at the venue, so please use public transportation.
Event Overview
Hate speech and hate crime movements are developed at various places now and protests against the movements take place at various places from various viewpoints. In this event, we run a movie, Hate Speech (Film Director: Koya Sasaki, Graduation Work of Osaka University of Arts, 80 Minutes, in Japanese). The movie carefully portrays the current condition of hate speech through interviews with participants in hate-speech demos on the streets, half-a-year coverage with people conducting a "counter" on the streets and narratives of people who suffer from hate crimes and their supporters.
This movie achieves success in that it clearly presents anti-discrimination although it covers both participants of hate demos and counters. On the other hand, some people feel odd about anti-discrimination although they empathize with it as a theme. Inspired by the movie we would like to examine what needs to be shared now.
Hate speech and hate crime do not take place only on the streets nor are they conducted by a particular group. For example, they take place in educational settings—to ethnic schools, or to international students or minority faculty members within universities and protests and systematic responses to them are conducted. Thus, in this event we invite Mr. Koya Sasaki (film director), Mr. Atsushi Hiraki, A/Professor Takanori Yamamoto (Shizuoka University) and Dr. Yoshitaro Hotta (Tokyo University of Science) and reexamine recent anti-discrimination movements while reflecting the history of the existing anti-discrimination movements. In this event we aim not only at understanding the seriousness of the current condition through the movie but at spreading the word about approaches against the current discriminatory condition by introducing the ways of protests on the streets, at schools and at universities.
Program
Inquiries
Administrative Office, Research Center for Ars Vivendi, Ritsumeikan University
56-1 Tojiinkita-machi, Kita-ku, Kyoto 603-8577
E-mail: ars-vive@st.ritsumei.ac.jp
TEL: +81-75-465-8475
FAX: +81-75-465-8245
"Translational Studies for Inclusive Society" Project is supported by the MEXT-Program for the Strategic Research Foundation at Private Universities, 2013-2015