Twelfth "Africa in Front of Us" Seminar: "Biomedicine / Ethnic Group / Trust: Search for Malaria Remedy among the Egun in Lagos State, Nigeria"
published: 2015-06-30
Event Overview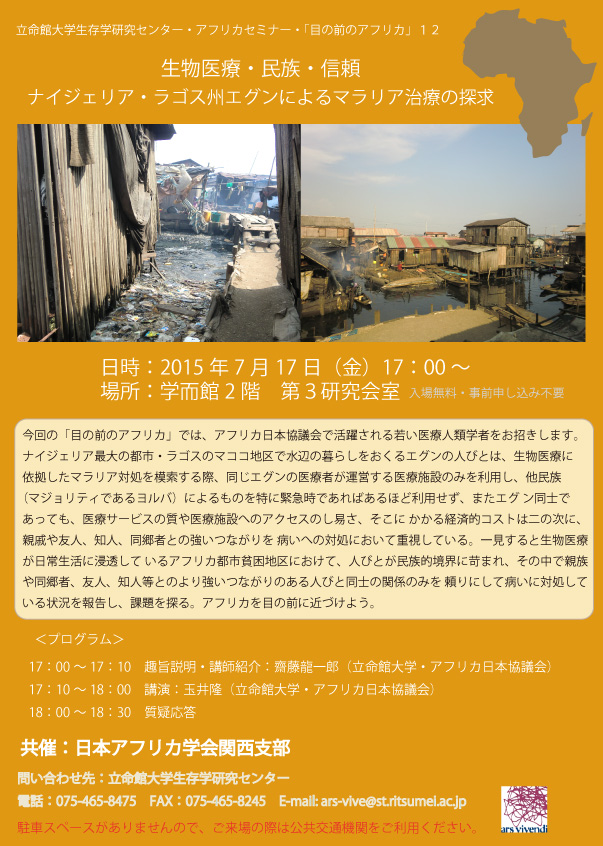 Download the Flier in
Japanese (PDF)
We invite Mr. Takashi Tamai, who is a visiting researcher of our Center (Director of Africa Japan Forum) this time and conduct a lecture concerning medical anthropology. Development of biomedicine in Africa is supplemented (or alternated) by supports of multi-actors including such international institutions as WHO, government support institutions, NGOs, private enterprises including pharmaceutical companies and giant foundations. Under the situation in which healthcare systems in African countries "do not exist" and various actors are involved in issues related to illnesses, hygiene and health in African countries, how are the structure of the society, people's acts to illnesses and people's connections constituted? In this event we discuss how the Egun, an ethnic group in Makoko District, Lagos, Nigeria, copes with malaria as a case study.
Let's take ourselves to a stone's throw from Africa.
Outline of Lecture
Date: July 17, 2015 (Fri.) 17:00-18:30
Place: 3rd Study Group Room, Gakujikan Hall, Kinugasa Campus, Ritsumeikan University
Host: Research Center for Ars Vivendi, Ritsumeikan University
Co-host: Kansai Branch of Japan Association of African Studies
Participation: Free of Charge / No Advance Application Necessary
Language: Japanese
Program
Inquiries
Administrative Office, Research Center for Ars Vivendi, Ritsumeikan University
56-1 Tojiinkita-machi, Kita-ku, Kyoto 603-8577
E-mail: ars-vive@st.ritsumei.ac.jp
TEL: +81-75-465-8475
FAX: +81-75-465-8245
*There is no parking available at the venue, so please use public transportation.