Seminars on Systems/Policies concerning Survival "Disability/Society" No.6 "International Development and Support to People with Disabilities"
published: 2015-06-22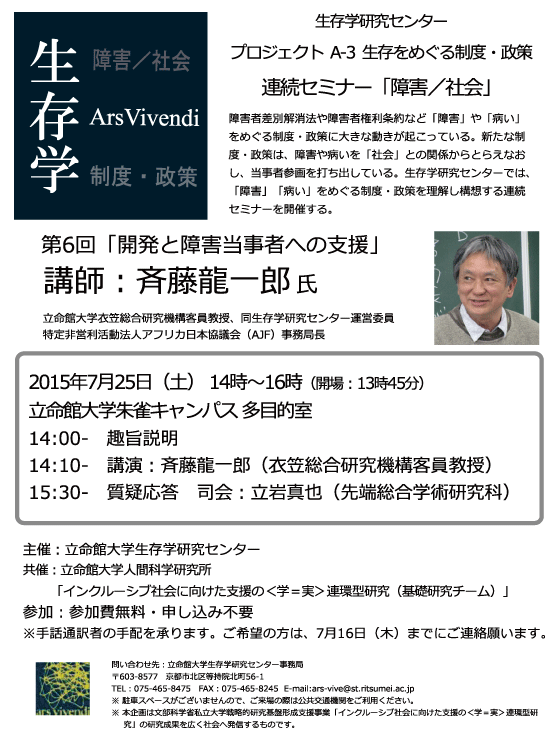 Download the Flier in Japanese
(PDF Version: 283KB)
Date & Time: July 25, 2015 (Sat.) 14:00-16:00 (Doors Open 13:45)
Place: Multipurpose Room, Suzaku Campus, Ritsumeikan University
Host: Research Center for Ars Vivendi, Ritsumeikan University
Co-host: Institute of Human Sciences, Ritsumeikan University "Translational Studies for Inclusive Society" (Fundamental Research on Social Inclusion and Human Support)
Free of Charge/ No Advance Application Necessary
Language: Japanese
* We can prepare for a sign language interpreter. Those who seek this service should contact the administrative office of the Research Center for Ars Vivendi by July 16 (Thu.).
Event Overview
Research Center for Ars Vivendi Project A-3 Seminars on Systems/Policies concerning Survival "Disability/Society"
Large movements concerning systems/policies concerning "disabilities" and "illnesses" have been occurring including the Act on the Elimination of Disability Discrimination and the Convention on the Rights of Persons with Disabilities (CRPD). These new systems/policies review disabilities and illnesses from the relationship with the society and come up with participation of persons with disabilities and illnesses. Research Center for Ars Vivendi hosts a series of seminars in order to understand and envision systems/policies over "disabilities" and "illnesses."
Program
Introduction of Lecturer
Lecturer: Ryoichiro Saito
Visiting Professor, Kinugasa Research Organization, Ritsumeikan University / Committee Member, Research Center for Ars Vivendi, Ritsumeikan University
Executive Director of Africa Japan Forum
Inquiries
Administrative Office, Research Center for Ars Vivendi, Ritsumeikan University
56-1 Tojiinkita-machi, Kita-ku, Kyoto 603-8577
E-mail: ars-vive@st.ritsumei.ac.jp
TEL: +81-75-465-8475
FAX: +81-75-465-8245
* There is no parking available at the venue, so please use public transportation.
"Translational Studies for Inclusive Society" Project is supported by the MEXT-Program for the Strategic Research Foundation at Private Universities, 2013-2015