Accessibility in the Digital Age: Development of Policies for People with Disabilities
published: 2015-06-05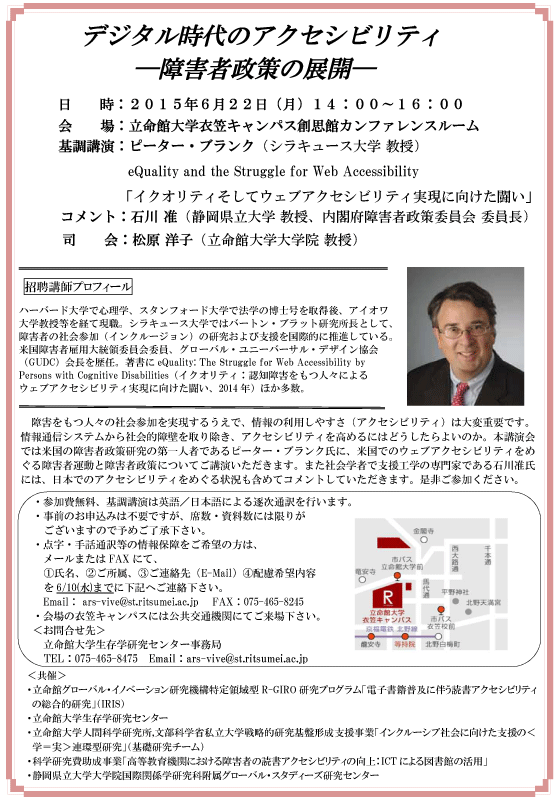 Download the Flier in
Japanese (PDF)
| | |
| --- | --- |
| Date & Time: | June 22, 2015 (Mon.) 14:00-16:00 |
| | |
| --- | --- |
| Place: | Conference Room, Soshikan Hall, Kinugasa Campu, Ritsumeikan University |
| Host: | "Integrated Research of Accessible Ebooks: Interfaces & Services" (Ritsumeikan Global Innovation Research Organization's Research Project in the Area of Human Life and Value) |
| Co-host: | Research Center for Ars Vivendi, Ritsumeikan University / Institute of Human Sciences, Ritsumeikan University (Fundamental Research on Social Inclusion and Human Support) / Grant-in-Aid for Scientific Research (B) "Improvement of Reading Accessibility of People with Disabilities in Higher Educational Institutions: Utilization of Libraries through ICT" (25282068) / Center for Global Studies, Graduate School of International Relations, University of Shizuoka |
| | |
| --- | --- |
| Participation: | Free of Charge / No Advance Application Necessary |
* There is no parking available at the venue, so please use public transportation.
Event Overview
Accessibility is very important to improve social inclusion of people with disabilities. What should we do to remove social barriers from the information and telecommunications system and improve accessibility? In this event, Prof. Peter Blanck, who is the pioneer researcher on policies for people with disabilities, lectures on disability movements and policies for people with disabilities over web accessibility in the U.S. Then, Prof. Jun Ishikawa, who is a sociologist and an expert on assistive technology, comments including the accessibility situation in Japan.
On Demand by Japan Broadcasting Service For Persons With Visual Impairment
Program
*Concerning keynote speech, consecutive interpretation (English-Japanese) will be provided.
*We can prepare for a point system and a sign language interpreter. Those who seek these services should contact the administrative office of the Research Center for Ars Vivendi by June 10 (Wed.) via e-mail or fax, including your name, affiliation, contact (e-mail) and details of your request.
Inquiries
Administrative Office, Research Center for Ars Vivendi, Ritsumeikan University
56-1 Tojiinkita-machi, Kita-ku, Kyoto 603-8577
E-mail: ars-vive@st.ritsumei.ac.jp
TEL: +81-75-465-8475
FAX: +81-75-465-8245
"Translational Studies for Inclusive Society" Project is supported by the MEXT-Program for the Strategic Research Foundation at Private Universities, 2013-2015.