Workshop "Self/Body/Disability in the Reflexive Global Society"
published: 2015-05-26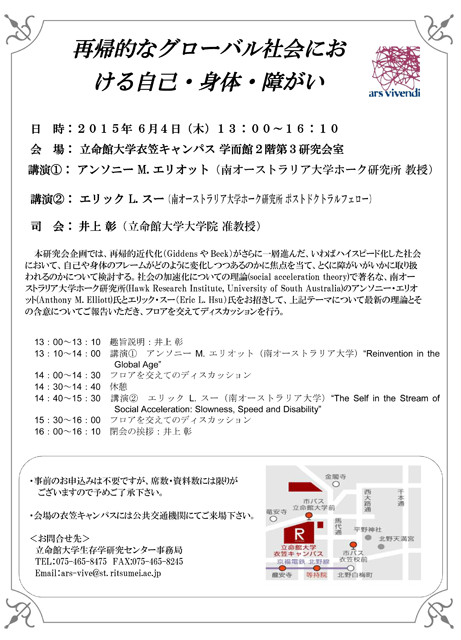 Download the Flier in Japanese
(PDF Version:162.5KB)
Date & Time:June 4, 2015 (Thu.) 13:00-16:10
Place: 3rd Study Group Room, Gakujikan Hall, Kinugasa Campus, Ritsumeikan University
Host: Research Center for Ars Vivendi, Ritsumeikan University
Participation: Free of Charge / No Advance Application Necessary
*There is no parking available at the venue, so please use public transportation.
Event Overview
In this event we purport to examine how disabilities are characterized in the society in which reflexive modernization has been advanced further (i.e., high speed society) by focusing on the changes of the frame of self and body.
We invite Prof. Anthony M. Elliott and Dr. Eric L. Hsu of the Hawke Research Institute at the University of South Australia, who are well-known for social acceleration theory. Prof. Elliott and Dr. Hsu give papers on the latest theory and its implication concerning the above-mentioned theme. Then we do discussion including the floor.
Program
13:00-13:10
Opening Address & Event Overview Akira Inoue
13:10-14:00
Anthony M. Elliott (University of South Australia)
"Reinvention in the Global Age"
14:00-14:30
Discussion
14:30-14:40
Break
14:40-15:30
Eric L. Hsu (University of South Australia)
"The Self in the Stream of Social Acceleration: Slowness, Speed and Disability"
15:30-16:00
Discussion
16:00-16:10
Closing Remarks Akira Inoue
Inquiries
Administrative Office, Research Center for Ars Vivendi, Ritsumeikan University
56-1 Tojiinkita-machi, Kita-ku, Kyoto 603-8577
E-mail: ars-vive@st.ritsumei.ac.jp
TEL: +81-75-465-8475
FAX: +81-75-465-8245