Joint Symposium by UTCP-L2 & Research Center for Ars Vivendi "Knowledge / Technology of Birth"
published: 2015-02-02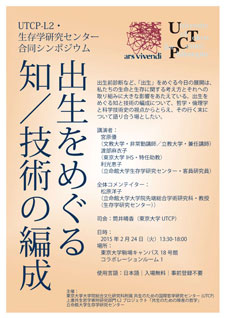 Download the Flier (in Japanese)
(PDF Version:262KB)
Date & Time : February 24, 2015 (Tue.) 13:30-18:00
Place : Bld. 18, 4F, Collaboration Room 1, The University of Tokyo, Komaba
Host : L2 project "Philosophy of Disability and Coexistence", Uehiro Research Division for Philosophy of Coexistence, The University of Tokyo Center for Philosophy (UTCP) & Research Center for Ars Vivendi, Ritsumeikan University
Language : Japanese / Admission Free / No Registration Required
Event Overview
Today's development concerning birth, including prenatal diagnosis, has a lot of influence on our way of thinking concerning life and survival and approach to it. This time we would like to examine knowledge/technology of birth from the viewpoint of philosophy/ethics and technography and discuss its future.
Program
13:30-18:00
Lecturer :
Yu Miyahara (Part-time Lecturer at Bunkyo University / Lecturer at Rikkyo University)
Maiko Watanabe (Project Assistant Professor, Integrated Human Sciences Program for Cultural Diversity, The University of Tokyo)
Keiko Toshimitsu (Visiting Researcher, Research Center for Ars Vivendi, Ritsumeikan University)
Overall Commentator :
Yoko Matsubara (Professor, Graduate School of Core Ethics and Frontier Sciences, Ritsumeikan University (Research Center for Ars Vivendi))
Host :
Haruka Tsutsui (The University of Tokyo Center for Philosophy)
Inquiries
The University of Tokyo Center for Philosophy (UTCP)
Administrative Office, Research Center for Ars Vivendi, Ritsumeikan University 56-1 Tojiinkita-machi, Kita-ku, Kyoto 603-8577
E-mail: ars-vive@st.ritsumei.ac.jp
TEL: +81-75-465-8475
FAX: +81-75-465-8245