Tenth "Africa in Front of Us" Seminar: "Reconsidering Reconciliation Policy of Society after Conflict: Focusing on South Africa after Post-apartheid"
published: 2014-07-22
Event Overview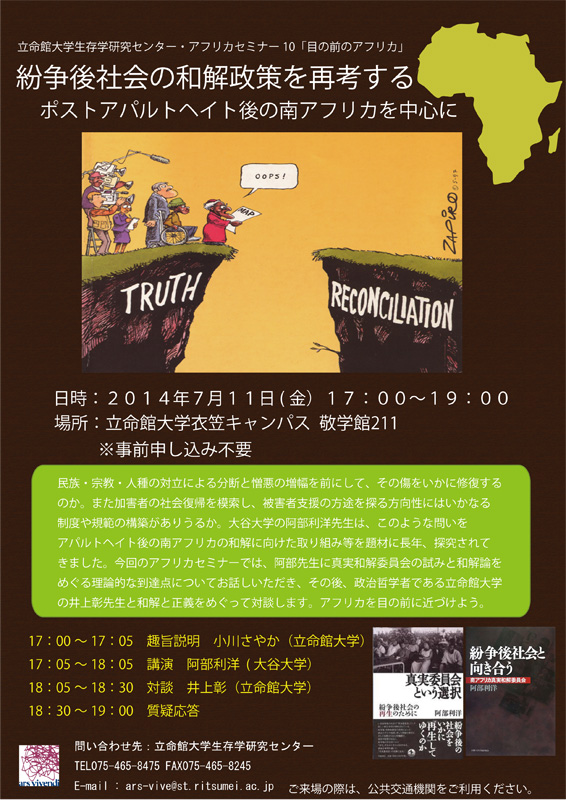 Conflicts of Religions/Races have brought about a lot of division and animosity. How should we repair its damage? Also, what kinds of systems and norms can there be for the direction to seek both social reintegration of the victimizers and ways of assistance of the victims? Prof. Toshihiro Abe of Otani University has conducted research on these kinds of questions based on such themes as the approach to reconciliation of South Africa after apartheid for a long time.
In this seminar Prof. Abe will talk both about a trial of the Truth and Reconciliation Commission and a theoretical mark over the reconciliation theory. Then he will have a conversation on accommodation and justice with Prof. Akira Inoue of Ritsumeikan University.
Let's take ourselves to a stone's throw from Africa.
Outline of Lecture
Date: July 11, 2014(Fri.)17:00-19:00
Place: #211 Keigakukan Hall, Kinugasa Campus, Ritsumeikan University
Host: Research Center for Ars Vivendi, Ritsumeikan University
Participation: Free of Charge / No Advance Application Necessary
Lecturer:Toshimitsu Abe(Otani University)
Conversation:Akira Inoue(Ritsumeikan University)Host:Sayaka Ogawa(Ritsumeikan University)
Program
| | |
| --- | --- |
| 17:00-17:05 | Event Overview(Sayaka Ogawa) |
| 17:05-18:05 | Lecture(Toshimitsu Abe) |
| 17:05-18:30 | Conversation(Toshimitsu Abe/Akira Inoue) |
| 18:30-19:00 | Q & A |
Inquiries
Administrative Office, Research Center for Ars Vivendi, Ritsumeikan University
56-1 Tojiinkita-machi, Kita-ku, Kyoto 603-8577
E-mail: ars-vive@st.ritsumei.ac.jp
TEL: +81-75-465-8475
FAX: +81-75-465-8245
*There is no parking available at the venue, so please use public transportation.