Ars Vivendi Seminar 2013
published: 2013-08-28
Event Overview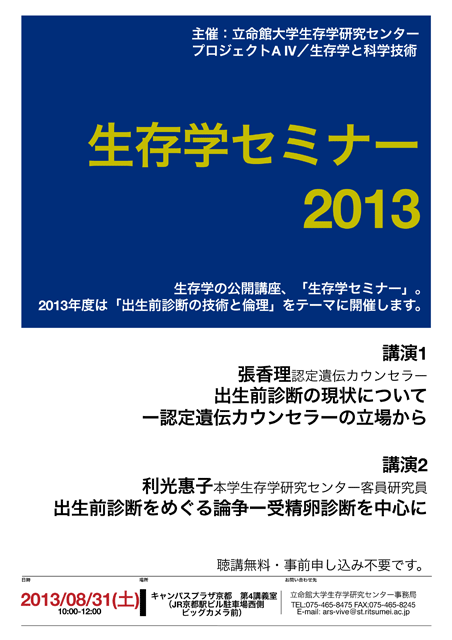 Download the flier (in Japanese) (PDF version: 111KB)
Ars Vivendi Seminar is an extension lecture of ars vivendi (i.e., art of living). In academic year 2013 we focus on "technology and ethics on prenatal diagnosis" and invite two professionals in the field.
Date & Time: August 31, 2013 (Sat.) 10:00-12:00
Place: 4th Lecture Room, Campus Plaza Kyoto
(West Side of the Parking Lot of JR Kyoto Station Building/In Front of Big Camera)
Participation: Free of Charge/ No Advance Application Necessary
Language: Japanese
Program
10:00-10:15
Opening Remarks/Explanation of Ars Vivendi (Yoko Matsubara)
10:15-11:00
Hyangri Chang (Certified Genetic Counselor)
Lecture "Current Condition of Prenatal Diagnosis: From the Position of the Certified Genetic Counselor"
11:00-11:45
Keiko Tosimitsu (Visiting Researcher, Research Center for Ars Vivendi)
Lecture "Controversies over Prenatal Diagnosis: With Emphasis on Preimplantation Genetic Diagnosis"
11:45-12:00
Closing Remarks (Yoko Matsubara)
Inquiries
Administrative Office, Research Center for Ars Vivendi, Ritsumeikan University
56-1 Tojiinkita-machi, Kita-ku, Kyoto 603-8577
E-mail: ars-vive@st.ritsumei.ac.jp
TEL: +81-75-465-8475
FAX: +81-75-465-8242
* There is no parking available at the venue, so please use public transportation.