Joint Study Meeting of Bioethics/Third Generation Society with Ars Vivendi: Bioethics and Ars Vivendi Practiced through Discussions
published: 2013-04-25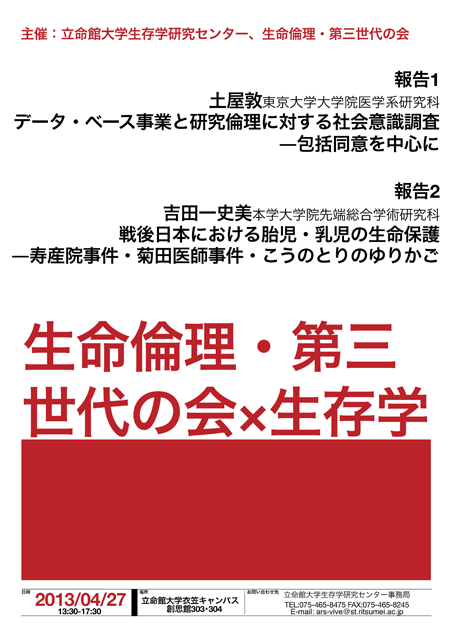 Date & Time:April 27, 2013 (Sat.) 13:30〜17:30
Host:Research Center for Ars Vivendi & Bioethics/ Third Generation Society
Place:#303/304 Soshikan Building, Kinugasa Campus, Ritsumeikan University
Participation:Free of Charge/ No Advance Application Necessary
Language:Japanese
Program
13:00
Doors Open
13:30
Opening Remarks
13:40〜
Presentation 1 & Q&A
"Survey on Social Attitudes toward Database Business and Research Ethics: With Emphasis on Comprehensive Agreement"
Atsushi Tsuchiya (Graduate School of Medicine, The University of Tokyo)
15:10〜
Break
15:20〜
Presentation 2 & Q&A
"Life Protection of Unborn/Newborn Babies in Postwar Japan: Infanticide, Adoption and Baby Hatch."
Kashimi Yoshida (Graduate School of Core Ethics and Frontier Sciences, Ritsumeikan University)
16:50〜
General Discussion
17:20〜
Closing Remarks
Event Overview
This study meeting is co-hosted by "Bioethics/Third Generation Society" and the Research Center for Ars Vivendi.
"Bioethics/Third Generation Society" consists of young researchers who have been seeking the establishment of common language in the various and interdisciplinary area of bioethics through discussions and this study meeting is planned to share this purpose.
In the first presentation Mr. Atsushi Tsuchiya from Third Generation Society will examine the way of comprehensive agreement in research on cerebral nerve. In the second presentation, Ms. Kashimi Yoshida from Ritsumeikan University will seek a possibility of applying research on history in the postwar Japan concerning children who are before/after birth into modern issue analysis.
Based on multidirectional examination on the bioethical side both of (possible) future and past events we will have active discussions with all of you.
Host
Research Center for Ars Vivendi at Ritsumeikan University & Bioethics/ Third Generation Society
Inquiries
Administrative Office, Research Center for Ars Vivendi, Ritsumeikan University
56-1 Tojiinkita-machi, Kita-ku, Kyoto 603-8577
E-mail: ars-vive@st.ritsumei.ac.jp
TEL: +81-75-465-8475
FAX: +81-75-465-8245
* There is no parking available at the venue, so please use public transportation.