TATEIWA Shin'ya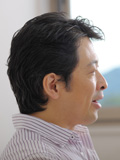 I am Shin'ya Tateiwa, the director of the Research Center for Ars Vivendi at Ritsumeikan University. Cocnerning what I have been doing, please click here.
The official name of arsvi.com is "Ritsumeikan University's Global COE Program Ars Vivendi: Forms of Human Life and Survival." The Program has a limited time of five years–from School Year 2007 through School Year 2011. On the other hand, this center will (probably) continue after the Program is over. Although the Program is over, the website, arsvi.com, will continue as a place for accumulating and provaiding research achievements and various kinds of information as long as there exists a person who is in charge of managing it. This website will probably introduce our whole activities while sometimes linking to the contents of arsvi.com.
Our thought and mission are clear. You can refer to them through the application of this Program. I believe you will clearly understand the outline of the Program. I think the important thing for us is "to work (study and conduct research)." There are many things that should be done, can be done, or exciting things to be done.
I think, from my experience, that doing those things as a collaborative work enables us to produce something valuabale.
I and some other members of the Program are faculty members of the Graduate School of Core Ethics and Frontier Sciences at Ritsumeikan University and you can come to the Graduate School if you are interested in.